Tucson Airport Sees Biggest January Passenger Increase in 10 Years
February 15, 2016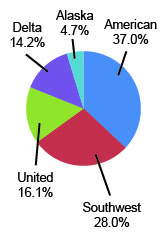 Airline passenger traffic at Tucson International Airport started 2016 on an upswing with almost 12,000 more passengers passing through the terminal in January compared with the same month in 2015.
The 4.6% increase was the highest year-over-year increase in January passenger numbers since 2006 and is a promising start to 2016.
All totaled, 267,465 passengers used Tucson International Airport in January. Just over half, 52% of them, were arriving passengers and 48% were departing passengers.
Delta Air Lines had the largest growth, up 9,223 passengers, or 32%, over January 2015. In mid-December, Delta launched new daily non-stop service to both Los Angeles International Airport and Seattle. The airline is also using larger aircraft on many of its flights to and from Atlanta and Minneapolis during the winter tourism season.
Similarly, United Airlines in December launched new daily service to Chicago O'Hare Airport and started using larger aircraft on flights to Denver and San Francisco. United had 6,442 more passengers, an increase of more 17%, over January 2015.
American Airlines, since its merger with US Airways, continues to be the busiest of the five carriers at the airport, followed by Southwest Airlines.
The January increase continued a three-month trend of increased passenger numbers at Tucson International Airport, although the calendar year ended down 2.4% at almost 3.18 million passengers.