More than 40% of aircraft operations at Tucson International Airport (TUS) are general aviation. The Tucson Airport Authority is committed to serving the pilots and passengers who are a part of this important component.
As a designated international Airport of Entry, U.S. Customs and Border Protection provides inspection and processing services for private aircraft entering the United States from Mexico. This service is available 24/7 but pilots are required to provide advance notice.  Information is below under U.S. Customs and Border Protection.
Pilot Information
Airport Code
 TUS
Location Coordinates
 Latitude N32°6.96′
Longitude W110°56.46′
Elevation
 2,643 feet / 805.6 meters (surveyed)
Magnetic Variation
 12° East
Hours Attended
 Continuous
Runway – Main Commercial
 11L/29R – 10,996 feet by 150 feet
Runway – GA Parallel
 11R/29L – 8,408 feet by 75 feet
Runway – Crosswind
  03/21 – 7,000 feet by 150 feet
ATIS
 123.8  279.65
Phone (520) 741-1177
Weather ASOS
  Phone (520) 295-5727
Tucson Tower
  118.3   257.8
Tucson Ground
  124.4   348.6
Clearance Delivery
  126.65  326.2
UNICOM
  122.95
ARTCC
  Albuquerque (ZAB)
Flight Planning
These links to third-party providers are listed as a convenience for pilots who should verify the dates on the charts to ensure they are current. Pilots should consult appropriate NOTAMS that may be in effect. Data is published by the FAA NACO. The Tucson Airport Authority cannot guarantee the accuracy of information from third-party providers.
TUS Runway Safety Video – Full Version
Info on Wrong Surface Landings
'Best Practices' for Airfield Safety
Sky Vector Aeronautical Charts
Pilots are advised to take particular notice of two "Hot Spots" at TUS as noted on the airport diagram.
Tucson International Airport resources 
NOTAMS
Use this link to search for current Notice to Airmen that may be applicable.
---
U.S. Customs and Border Protection
The U.S. Customs and Border Protection (CBP) Office at Tucson International Airport (TUS) is a full-service Port of Entry.

7081 S. Plumer Ave.
Hours: 8 a.m-8 p.m. daily (to report an aircraft arrival or for general information)
Phone (520) 799-8348, Ext. 5
Fax: (520) 799-8388
Passenger processing: Available 24/7.
Cargo processing: Available 8:30 a.m.-4:30 p.m., Monday – Friday, except U.S. federal holidays.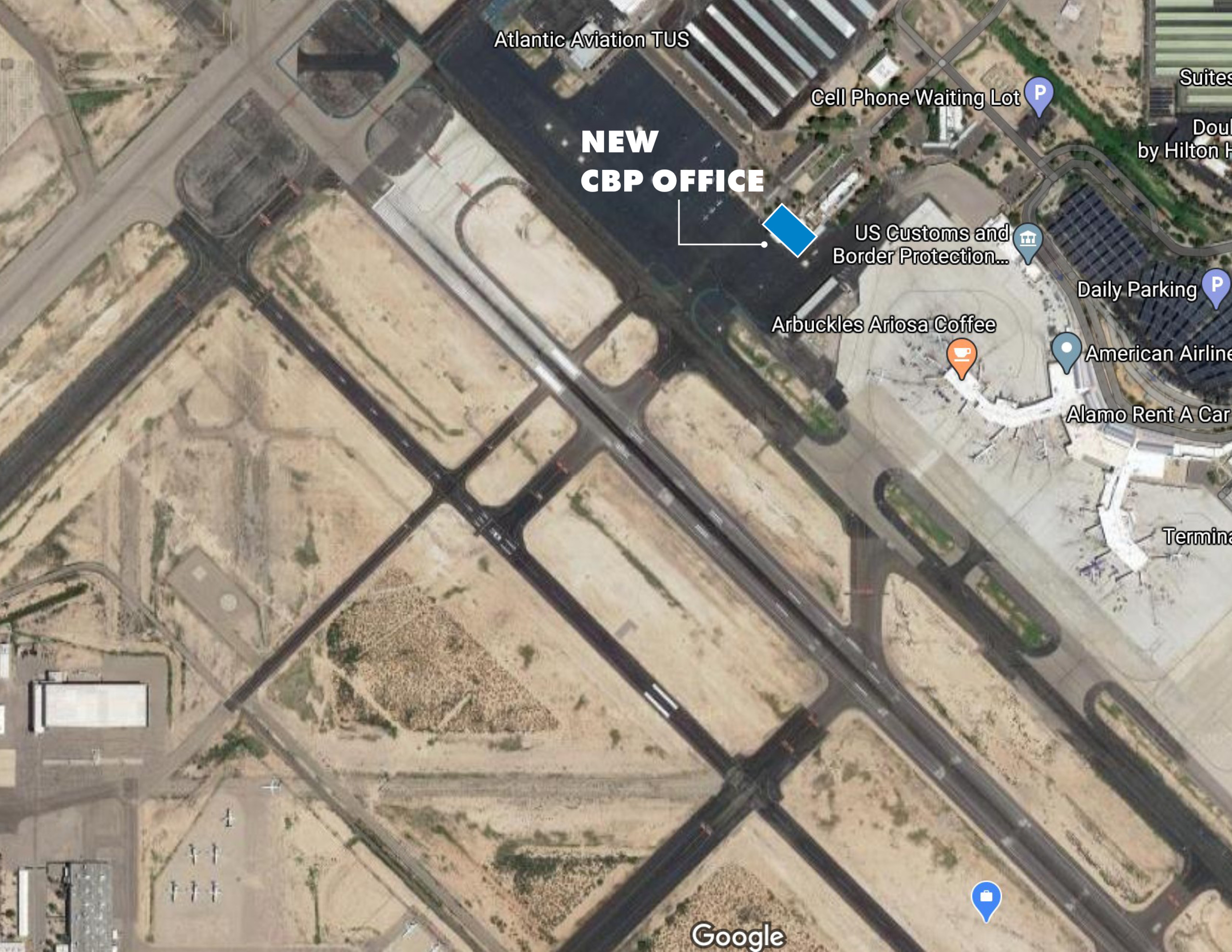 Pilots should give notice by contacting CBP by telephone before 8 p.m. the preceding weekday and provide the following information:
Aircraft registration number.
Name of pilot in command.
Place of last departure.
Estimated time and location of border crossing.
Intention to make TUS the airport of first landing in the U.S.
Number of U.S. citizen passengers.
Number of resident and nonresident alien passengers.
Estimated time of arrival at TUS.
Pilots should also include an ADCUS notice on their flight plan. Be advised, however, the ADCUS notation in the flight plan does not guarantee Customs personnel will receive the ETA notification.