As the designated Port of Entry airport in Arizona, U.S. Customs and Border Protection (CBP) provides a full range of services at Tucson International Airport (TUS), including passenger and cargo processing as well as a Global Entry Enrollment Center.
In 2020, CBP at TUS processed 6,555 passengers on 1,430 international aircraft arrivals and more than $6.8 billion in value of international cargo. Due to the closure of Global Entry Enrollment Centers for five months due to COVID-19, the TUS office was able to conduct only 5,249 interviews, just 12.4% of the number done in 2019.

7081 S. Plumer Ave.
Hours: 7 a.m-8 p.m. daily (to report an aircraft arrival or for general information)
Phone (520) 799-8348
Driving Directions: From Valencia Road go south on either Plumer Avenue (there is no traffic signal at Plumer) or take Tucson Boulevard, the main entryway to the airport terminal, and turn right on East Airport Drive (signage toward the Cell Phone Waiting lot) and continue to Plumer where you will turn left.
Parking: Free parking is available adjacent to the office.
---
Passenger Processing
Hours: 7 a.m.-8 p.m. daily (additional hours are available with advance notice)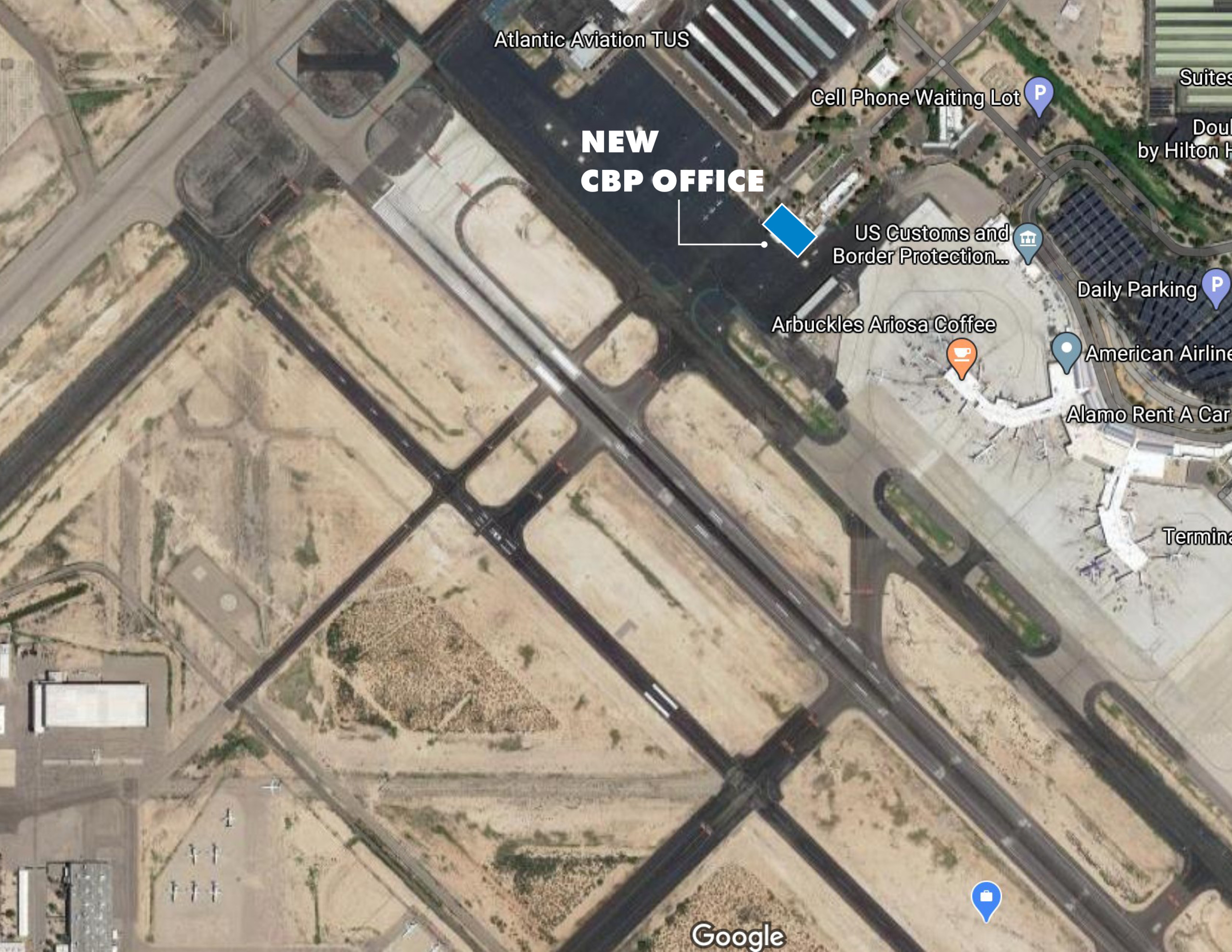 General Aviation 
Inbound pilots should give notice by contacting CBP at (520) 799-8348 before 8 p.m. the preceding weekday of their planned arrival and provide the following information:
Aircraft registration number.
Name of pilot in command.
Place of last departure.
Estimated time and location of border crossing.
Intention to make TUS the airport of first landing in the U.S.
Number of U.S. citizen passengers on board.
Number of resident and nonresident alien passengers on board.
Estimated time of arrival at TUS.
Pilots should also include an ADCUS (advise Customs) notice in the remarks section of their flight plan. Be advised, however, the ADCUS notation in the flight plan does not guarantee Customs personnel will receive the ETA notification.
Commercial Airlines  
Commercial airline flights with passengers are processed at the Federal Inspection Services facility at Gates A1 and A2 in the main terminal. Contact CBP at (520) 799-8348 for instructions.