As the designated Port of Entry airport in Arizona, U.S. Customs and Border Protection (CBP) provides a full range of service at Tucson International Airport (TUS), including passenger and cargo processing as well as a Global Entry Enrollment Center. In 2019 CBP at TUS processed more than 2,000 aircraft arrivals and more than $1.1 billion worth of international merchandise and conducted more than 42,500 Global Entry interviews.

7150 S. Tucson Blvd.
Hours: 7 a.m-8 p.m. daily (to report an aircraft arrival or for general information)
Phone (520) 799-8348
Directions: Travel south on Tucson Boulevard from Valencia Road, the Port Office is in the same building and immediately east of the C Gates terminal.
Parking: The closest parking is the Hourly Parking lot, which you enter from the left lanes before you reach the Port Office. (If you miss the entrance, continue through the main terminal area and use the return lanes to circle around to the parking lot entrance.) The rate in the Hourly is $1 per 30 minutes to a maximum of $13 per day.
CBP is in Temporary Location at TUS for Passenger Processing of General Aviation Aircraft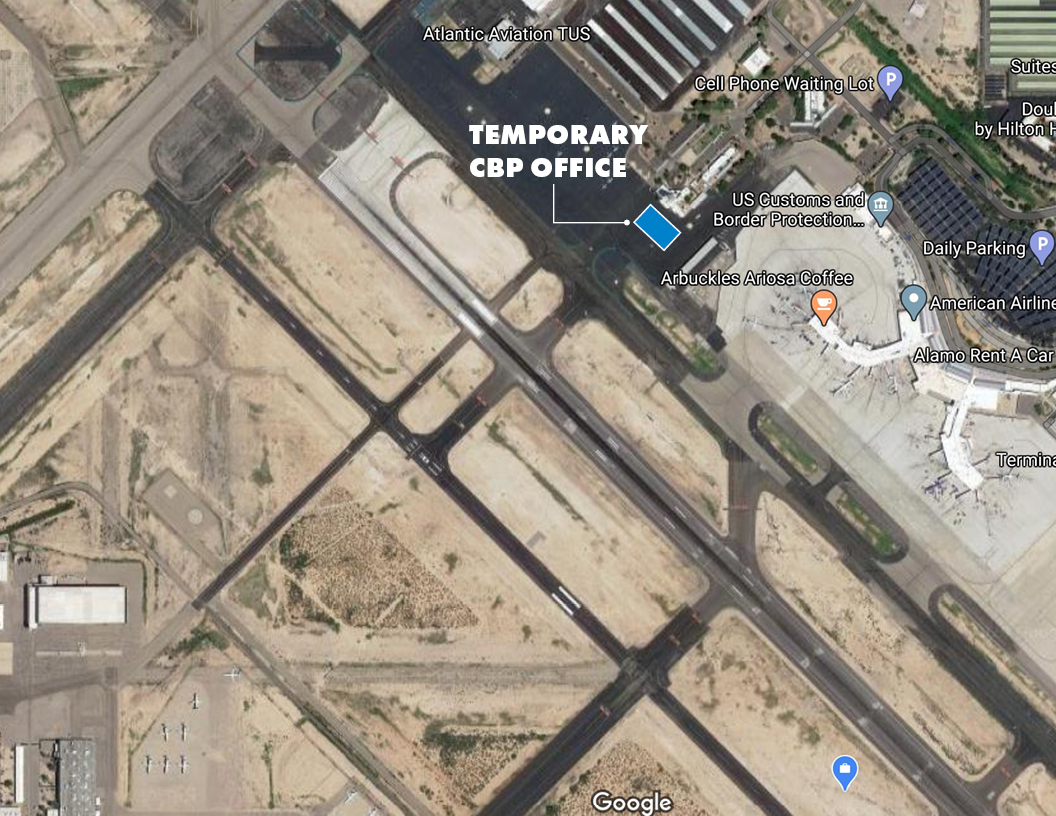 Construction is underway on a new TUS location for Customs and Border Protection at the base of the now decommissioned former air traffic control tower. General aviation aircraft are temporarily being processed at a facility on the airfield side of the building. As a guide, pilots will find the new location at the base of the tower with T-U-C-S-O-N spelled out down two of its sides.
---
Passenger Processing
Hours: 7 a.m.-8 p.m. daily (additional hours are available with advance notice)
General Aviation 
Please note the temporary passenger processing location in the photo above.
Inbound pilots should give notice by contacting CBP at (520) 799-8348 before 8 p.m. the preceding weekday of their planned arrival and provide the following information:
Aircraft registration number.
Name of pilot in command.
Place of last departure.
Estimated time and location of border crossing.
Intention to make TUS the airport of first landing in the U.S.
Number of U.S. citizen passengers on board.
Number of resident and nonresident alien passengers on board.
Estimated time of arrival at TUS.
Pilots should also include an ADCUS (advise Customs) notice in the remarks section of their flight plan. Be advised, however, the ADCUS notation in the flight plan does not guarantee Customs personnel will receive the ETA notification.
Commercial Airlines  
Commercial airline flights with passengers are processed at the Federal Inspection Services facility at Gates A1 and A2 in the main terminal. Unscheduled flights should contact CBP at (520) 799-8348 for instructions.