Allegiant Adds Indianapolis As Tucson's Newest Nonstop Destination
August 13, 2019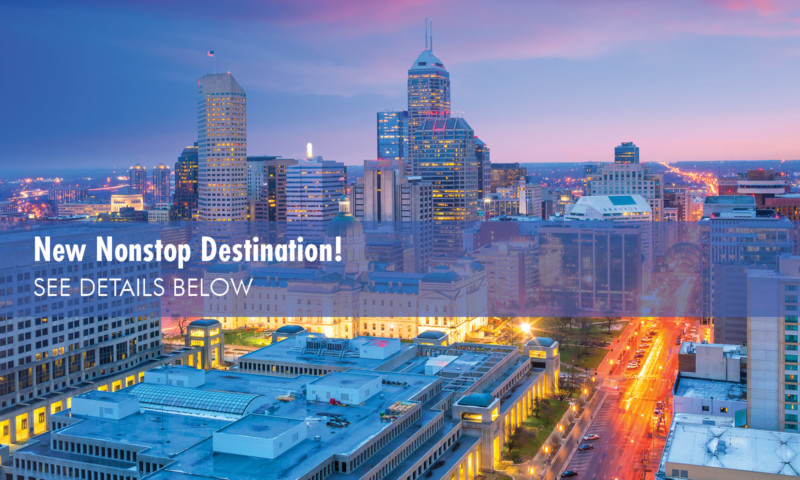 Allegiant Air today (August 13) is announcing it will introduce nonstop flights between Tucson International Airport (TUS) and Indianapolis International Airport (IND) on Thursdays and Sundays, starting November 14, with an introductory fare as low as $59*.
(Click here to see a calendar of dates and fares for Allegiant flights from Tucson to Indianapolis.)
"I am excited about this opportunity we can offer passengers flying between Tucson and Indianapolis who are now driving to an airport two hours away," said Danette Bewley, interim president and CEO of the Tucson Airport Authority. "This is a brand-new destination for Tucson International Airport. We're looking forward to the opportunity to welcome Hoosiers to Southern Arizona and transplants living here, now you've got a nonstop flight when you get real hungry for a pork tenderloin sandwich or a sugar cream pie!"
Indianapolis is Allegiant's third destination from TUS. The airline began serving Tucson last November with year-round nonstop flights to Provo and service to Bellingham (Vancouver), which is scheduled to resume October 4.  The Indianapolis flights are also planned as seasonal through May 12, 2020. Flight days, times and the lowest airfares can be found at Allegiant.com.
"We're really excited to provide this nonstop service to Tucson, so the people of Indianapolis have the opportunity to explore and enjoy all this beautiful area has to offer," said Drew Wells, Allegiant vice president of planning and revenue. "The service starts just in time for travelers to escape the cold for a warm winter getaway."
Allegiant estimates the new flight will bring nearly 56,000 passengers out of the Indiana cold to the warmth of Tucson, contributing to visitor spending.
Also, as part of a terminal-wide upgrade, passengers on Allegiant and other airlines using the C gates at TUS now have access to free Wi-Fi while waiting for their flight to depart.
Additionally, thanks to the cooperation of U.S. Customs and Border Protection, passengers will have new access to restroom facilities past the TSA security checkpoint in the C gates waiting area. U.S. Customs and Border Protection has agreed to allow passengers waiting for departing flights post-security at the C gates to use restroom facilities in the Customs processing area when the area is not being used to process arriving general aviation aircraft.
Customs is planning to relocate its general aviation processing facilities at TUS, which is anticipated within a year. At that point there will be unrestricted access to restrooms post-security at the C gates.
Tucson International Airport (TUS) is served by eight airlines – Alaska, Allegiant, American, Delta, Frontier, Southwest, Sun Country and United –flying to 20 nonstop destinations – Atlanta, Bellingham (Vancouver), Chicago Midway and O'Hare, Dallas/Fort Worth, Denver, Houston, Indianapolis, Las Vegas, Los Angeles, Minneapolis, Oakland, Phoenix, Portland, Provo, Salt Lake City, San Diego, San Jose, San Francisco and Seattle. More information is at flytucson.com.
*About the introductory one-way fares:
Seats and dates are limited and fares are not available on all flights. Tickets must be purchased by Thursday (August 14) for flights between November 14, 2019 and  May 12, 2020. Price displayed includes taxes, carrier charges and government fees. Fare rules, routes and schedules are subject to change without notice. Optional baggage charges and additional restrictions may apply. For more details, optional services and baggage fees, please visit Allegiant.com.