TUS Military Lounge Officially Re-Opened
January 17, 2020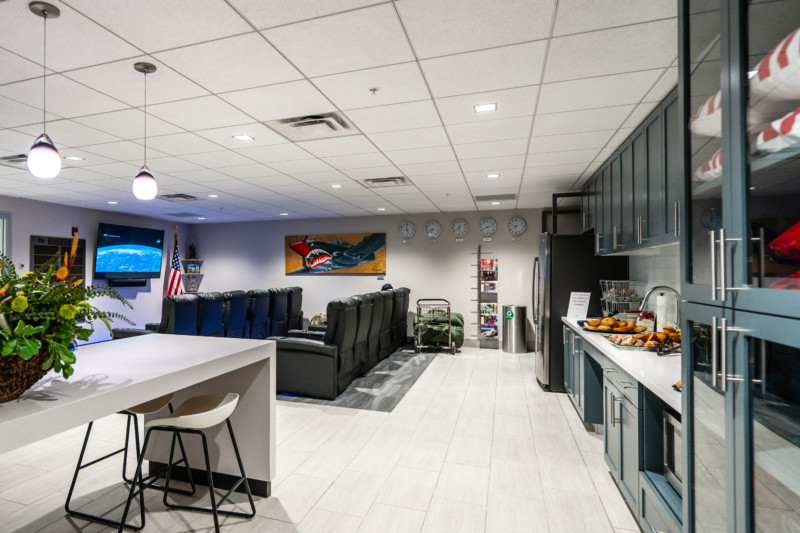 The Tucson Airport Authority hosted a ribbon cutting ceremony at the Tucson International Airport (TUS) on Tuesday, January 14, 2020 to celebrate the newly renovated Military Lounge. Thanks to a local effort led by community leaders Mark Irvin and Marshall Dennington, more than 65 donors contributed to raising funds to modernize the Military Lounge, which is used daily by traveling military members and their families.
"This is a project for not just the Tucson Airport Authority to be proud of, but our entire community. From the ground up, the Military Lounge has a refreshed feel and look and is a display of our support and appreciation for our military," TAA President and CEO Danette Bewley said. "We are so appreciative of all of the individuals and organizations that donated time, material and money."
At the ribbon cutting event, Irvin acknowledged the work that went into making the dream of a renovation into reality and Col. Drowley, Commander of the 355th Wing at Davis-Monthan Air Force Base, thanked the community for the renovation on behalf of all military branches.
The Military Lounge, which is located in the baggage claim area of TUS, is run and operated by the TAA. Thanks to additional donations from groups within the community, the lounge is continuously stocked with snacks and drinks for traveling military and their families.
During the renovation, an alternate room was set-up to serve as the Military Lounge. A soft opening was held just a week before Thanksgiving. Finishing touches were implemented in the last week ahead of the ribbon cutting.
Donors for the Military Lounge, include:
162nd Fighter Wing Guardian Angels
AGM Container Controls
AJ Freed, LLC
Anonymous
Arizona Bowl
BBVA (Compass Bank) [pending]
BSD Winers & Diners
Chasse Building Team
Dale & Julie Butcher
David & Gail Lovitt Family
David Smiljanich
Diane Quihuis
Dias Management, Inc
Donna Cotlow
Evans Douglas, Inc
Family Housing Resources & FHR Cares
Farhang & Medcoff
Fletcher & Elizabeth McCusker
Genesis OB/GYN
Graesser Foundation
Great Western Bank
Holualoa Capital Management
HSL Properties
Ice Arizona AHL Co, LLC
Jason Luckey
Jim Click
K2 Electric
Kimberly Clements
Mark Irvin Commercial Real Estate
Marshall Dennington
Michael G Anderson (We Buy Houses)
Military Order of the World Wars
Nova Home Loans
Patricia Blomfield
PICOR Commercial Real Estate
Pioneer Title Agency
Robert & Judith Logan
Royal Automotive Group
Ruiz Asset Management
Sal Cabibo
Seaver Franks
Southern Arizona Military Support
Southern New Hampshire University
Sundt Construction
Swaim Associates Architects
Tucson Community Foundation
Tucson Sugar Skulls
Vantage West Credit Union
Visit Tucson
YMCA of Southern Arizona
 Material & services donors:
Anderson Painting
Annie Lewis Design
Best Buy
CAID Industries
Chasse Building Team
Cinema-Pro Home Theater
Diana Madaras
Gadabout SalonSpas
H2O Joe Drinking Water Systems
Justin Carroll
SDG Architecture
TEMCO Air Environmental
Tucson Appliance & Furniture
Tucson Chamber of Commerce
Michelle Rouch
American Legion Riders Post 36
City of Tucson Veteran's Affairs Committee
Daughters of the American Revolution
Hudson Group
Saddlebrooke Troop Support