If you're involved in a business that needs airfield access, wants close proximity to an airport or are looking for solid industrial property in an ideal location, the Tucson Airport Authority (TAA) has sites available to help you unlock the potential for success.
With two unique and separate airports, no idea is too big or too small for TAA and its partner Sun Corridor Inc. to try to tackle. Tucson International Airport (TUS), at 8,282 acres, is one of the 10 largest commercial airports in the United States. Ryan Airfield (RYN) is a 1,799-acre general aviation reliever airport with the only air traffic control tower in Southern Arizona staffed under the Federal Aviation Administration's Contract Tower program.
And, being in Southern Arizona, both airports are ideally located to take advantage of delay-free flying weather year-round.
The Tucson Airport Authority has partnered with Sun Corridor Inc., Southern Arizona's "one stop shop" to facilitate smooth communications between site decision-makers and local leaders who can make things happen to get your business here. Sun Corridor Inc. can provide answers to your questions about properties, permitting and development, regional workforce, foreign trade zone opportunities, and local, state or federal incentives. If confidentiality is a concern Sun Corridor Inc. can help you there, too. Sun Corridor's contact information is below (click on the logo to go to the website).
If this is beginning to intrigue you, let us offer these advantages that Tucson International Airport or Ryan Airfield can bring to the table:
­Shovel-ready sites and customized incentives packages
Rare airside access at both airports
­Plenty of space – More than 10,000 acres between TUS and RYN
­Zoning for aviation, mixed use, light and heavy industrial use
­No need for land acquisition loans due to ground leases
­TUS is ideal Logistics Hub with easy access to east-west Interstate 10, the southernmost transcontinental interstate in the United States, as well as north/south access on Interstate 19 between Mexico and Canada via the CANAMEX corridor
­Arizona is a Right-to-Work State
­Airport leadership has pro-development philosophy
---
Tucson International Airport (TUS)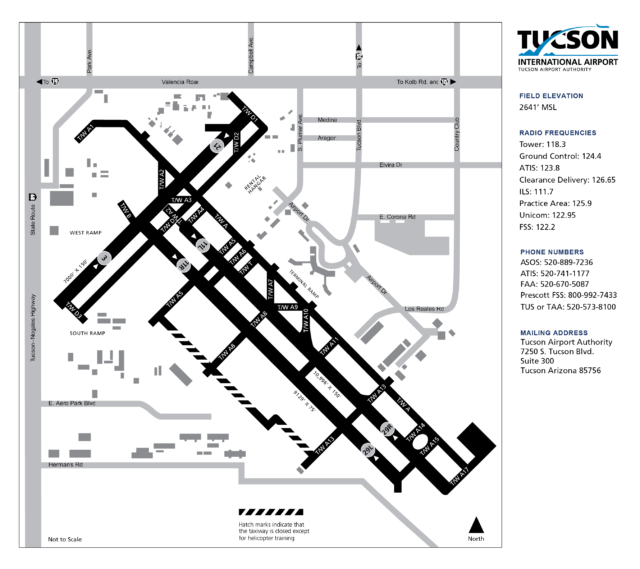 TUS, eight miles south of Tucson's central business district, is the commercial airport serving a catchment area of more than 1.4 million residents living in southern Arizona and northern Sonora, Mexico. The airport is less than 4½ miles from either Interstate 10 or 19 and less than 9 miles from the Port of Tucson, a 770-acre full-service inland port offering unrivaled logistics and warehousing opportunities, including more than 1.8 million square feet of improved space, refrigerated storage and distribution.
The airport has three runways. The primary commercial runway (11L/29R) is 10,996 feet. A parallel runway, used by general aviation aircraft, is 8,408 feet. The third runway (3/21) is 7,000 feet and is used when required by cross-wind weather conditions. TUS is a U.S. Port of Entry with 24-hour processing services of U.S. Customs and Border Protection.
Current airfield tenants include Raytheon Missile Systems, Bombardier Aerospace, Aerovation, Ascent Aviation Services, 162nd Arizona Air National Guard, SkyWest Airlines, Federal Express and Rolls-Royce Aircraft Engines.
Companies with facilities nearby include: Manufacturers CAID Industries, Chamberlain Group, Faribault Foods (La Costeña, S&W, Sun Vista, Luck's and private labels), Global Solar, Kloeckner Metals, Rain Bird Corporation, Sion Power, Universal Avionics and Zucarmex USA (Zulka); Technology Arizona Center for Innovation, IBM, Intuit and University of Arizona Tech Park; Fulfillment Amazon and Target; Distribution American Tire Distributors, HomeGoods Distribution Center, Materion Ceramics, Safelite Auto Glass and Si Inc.; and Logistics DHL Global Forwarding, Federal Express Ground, Old Dominion Freight Lines, Port of Tucson and Supply One.