Tucson International Airport Recognized by Arizona Office of Tourism for TUS Cares Initiative
August 10, 2021
The Tucson Airport Authority (TAA) continues to prove its commitment to safety, security, and customer service throughout the COVID-19 pandemic. Recent recognition from the Arizona Office of Tourism shows that the TAA operates Tucson International Airport (TUS) for the benefit of our region and the state.
Members of the TAA accepted the 2021 Spirit of Service Crisis Response award at this year's Arizona Governor's Conference on Tourism. The award honors an individual, group, event, or attraction for their above-and-beyond response to the recent global health crisis. That response is the 'TUS Cares' initiative, which focuses on innovative health and safety solutions, including a "touchless journey," and safety messaging.
TAA President and CEO Danette Bewley attended the awards gala at the JW Marriott Scottsdale Camelback Inn Resort and Spa on August 3. She thanked the Arizona Office of Tourism for recognizing 'TUS Cares'.
"Our executive team knew early on in the pandemic that we wanted to lead from the front," she said. "Many of the improvements we made in and around the terminal were in place before any mandates from our local, state or federal government partners. It was, and continues to be, vital for us to instill a sense of security and comfort in both passengers and employees at Tucson International Airport."
Despite the struggles of operating as essential infrastructure during a global pandemic, the TAA invested more than $500,000 in critical health and safety standards. It also resulted in TUS becoming just the 5th airport in the world to earn GBAC STAR accreditation from the Global Biorisk Advisory Council. Since then, more than 70 other airports have followed our example.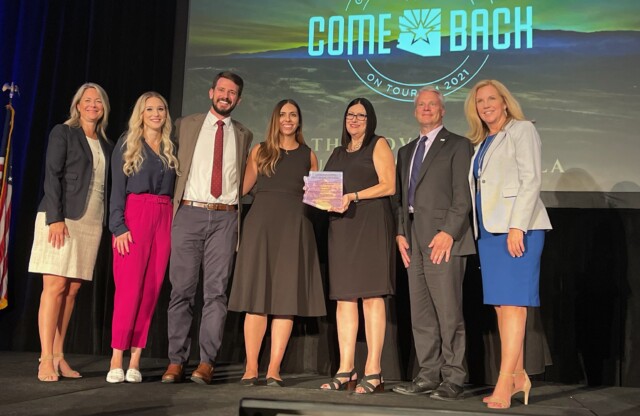 Members of the Tucson Airport Authority accepted the award during the 2021 Arizona Governor's Conference on Tourism.