TAA Launches New Website
February 6, 2017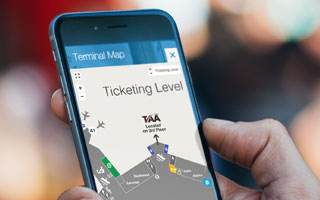 With the traveler in mind, the Tucson Airport Authority launched a newly designed website, www.flytucson.com. The mobile responsive FlyTucson.com features three websites within one, one for each entity: Tucson Airport Authority, Tucson International Airport (TUS) and Ryan Airfield (RYN). The new website was designed with the help of local company Creative Slice and its founder Tim Bowen.
The updated site is now mobile responsive and includes changes to navigation, making it easier for users to find exactly what they need whether they're using a smartphone, a tablet or iPad or their computer at home. Among the new features is a new and improved cost calculator. In one place, passengers can compare local travel costs including parking rates, travel time and airfare.
Also for those traveling, an improved destinations page provides ample information about each of the 19 nonstop destinations serviced by TUS. From finding out the number of flights on each airline to the weather and things to do, users are provided an opportunity to go directly to an airline's website to purchase tickets.
The site also features a new interactive map, which can be found under 'Passenger Services.' This map allows users to pinpoint where each restaurant is as well as ticketing counters, restrooms and customer services.
Additionally, new parking information was added, including an up-to-date status of how full each parking lot at TUS is at any particular time. As well, a new FAQ section has been added on the page specific to TUS. Questions range from check-in info to general airport info.
Also featured on all three sections of the site is a tab for 'Economic Development.' Here, organizations interested in doing business with TAA at either TUS or RYN can find all of the information they may need from the business climate to map and services.