TAA Board OKs New Airport Parking Rates
January 23, 2017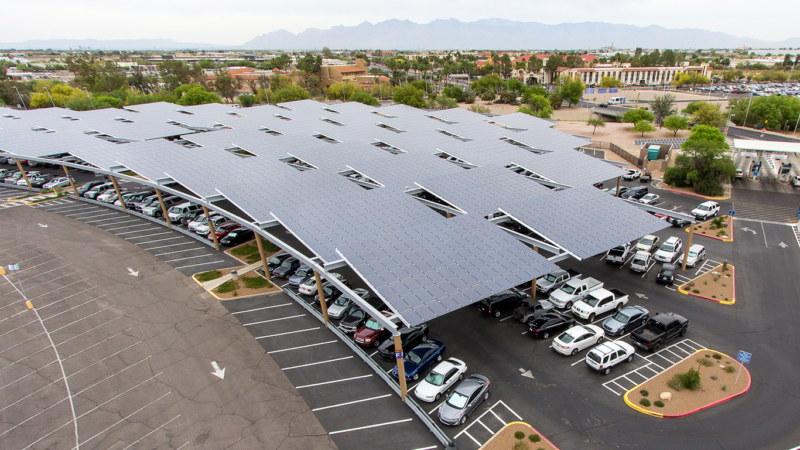 The Tucson Airport Authority has spent $3.6 million on capital improvements to the airport, including to the parking facilities. To meet rising operating costs, and to continue work on improving Tucson International Airport, the TAA Board of Directors on Monday approved new parking rates at TUS.
The rates, which take effect February 1, apply to TAA's Daily and Hourly lots in front of the terminal, the Garage adjacent to the terminal and the Economy lots, which have shuttle service to the terminal.
"The TAA believes maintaining low parking rates has been a compelling benefit of using Tucson International Airport and despite this increase the rates remain low compared to other airports ," said TAA President and CEO Bonnie Allin.  "It has been seven years since parking rates were last adjusted. Since that time, capital improvements and rising wage and benefit rates have increased operating costs.  Even with the increase in rates, the variety of lots and price levels available still provide our customers with convenient and safe parking options that are affordable for everyone."
The new rate structure increases the per day maximum, or overnight rate, by $1 in the Garage, Daily, Hourly and Economy Covered lots and by 50 cents in the Economy lot. The only other change affects the hourly rate in the Daily lot, which will increase to $2 per hour until the fifth hour when the Daily rate takes effect.
The adjusted rates:
| | | | | |
| --- | --- | --- | --- | --- |
| | Current Hourly Rate | New Hourly Rate | Current Per Day Rate | New Per Day Rate |
| Hourly Lot | $2.00 | $2.00 | $12.00 | $13.00 |
| Daily Lot | $1.50 | $2.00 | $9.00 | $10.00 |
| Economy Lot | N/A | N/A | $4.00 | $4.50 |
| Economy Covered | N/A | N/A | $5.00 | $6.00 |
| Garage | $3.00 | $3.00 | $9.00 | $10.00 |
The TAA does not charge any additional fees on top of these rates and all taxes are included.
Since 2010, when the rates were last changed, personnel expenses, which account for the majority of operating costs, have risen significantly.
When the parking rate increase takes effect, vehicles will be charged the rate that was in effect at the time it entered the parking facility for the entire stay. In other words, a vehicle entering on January 31 will be charged the rates that were in effect that day, even if the vehicle stays for multiple days beyond February 1.