New Concessions Coming to TUS in 2017
September 21, 2016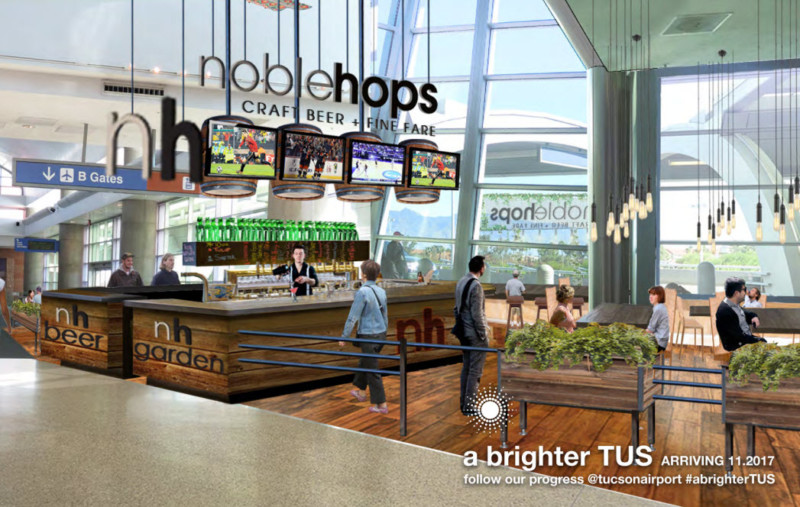 New retail and food and beverage offerings emphasizing unique offerings of southern Arizona are coming to Tucson International Airport starting in 2017.
The new food and beverage options will include outlets of well-known Tucson area establishments Beyond Bread, El Charro Café, The Maverick, Noble Hops, Sir Veza's Taco Garage, Thunder Canyon Brewery and Arbuckle's Coffee.
The retail concepts are being designed and themed to capture iconic cultural influences of the Tucson region such as a traditional mercado and tienditas (small stores) and historic influences using works of local artisans. In addition to selling the travel necessities and newsstand items, the stores will offer local souvenirs, jewelry and sports gear.
Creative Food Group LLC, is the lead organizing the food and beverage concessions. The local brand outlets will be intermingled with national names including Bruegger'sBagels, BUILT Custom Burgers, Dunkin' Donuts and Pie Five Pizza.
Hudson Group Retailers LLC is collaborating with Tucson-based Poravion LLC and Cambios y Servicios Inc., Phoenix, on the retail locations. Planned stores are Arroyo Trading Post, including Agustín Kitchen Express, in the Centre Pointe area of the ticketing level as a gathering place for travelers and locals coming to meeting arriving passengers; and Hudson Gates Pass and Hudson Fort Lowell, both of which will offer a variety of reading materials, local gift and souvenir items, and travel necessities. Another store, Ink, will feature all kinds of reading material displayed in a unique setting.
Construction is scheduled to begin in March on the new concessions, with the first outlets due to open in May 2017. Temporary concessions locations will operate during March and April.