Commercial Airline Flights from TUS to Mexico to Return
August 31, 2016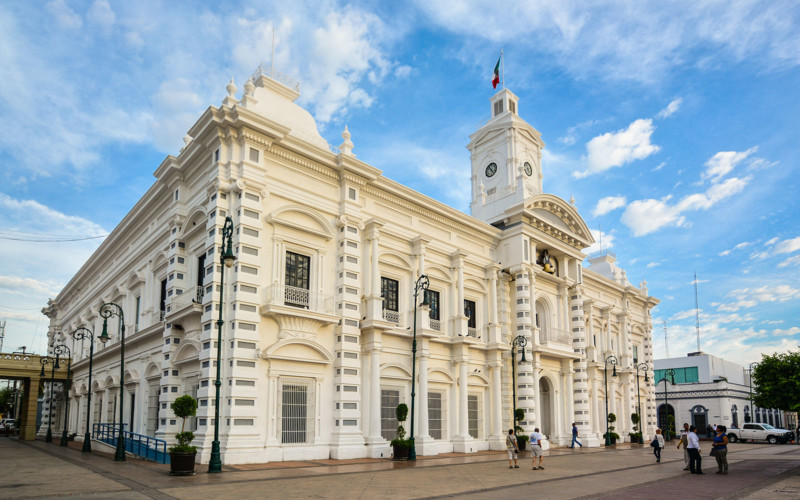 Regular international commercial airline service is scheduled to return to Tucson International Airport October 3 when Aeromar launches service to Hermosillo, Los Mochis, Mazatlán and Guadalajara in Mexico.
Andrés Fabre, Aeromar Director General and CEO, was in Tucson today for the official unveiling of the airline's ticket counter space at the airport and to meet with local officials. Fabre said Aeromar takes great pride in making Tucson its second U.S. destination and congratulated those in Tucson, including the airport, who worked so diligently to restart international flights.
Tucson Mayor Jonathan Rothschild said "Nonstop flights to Hermosillo – a hub in Mexico's airline system and the capital of the state of Sonora – are an important development in Tucson's trade, tourism and cultural exchanges with our neighbors to the south. I could not be more pleased at this announcement and I want to thank and welcome Aeromar to Tucson."
Bonnie Allin, President and CEO of the Tucson Airport Authority, welcomed the new service. "Re-establishing nonstop and direct air service into Mexico has been one of our highest priorities. It's an important economic link for our region's trade and logistics sectors. Eight years later we have success. Now it will be vitally important for travelers to use these flights."
The new flights will begin with a schedule that operates four days each week – Sunday, Monday, Thursday and Friday – aboard 46-passenger ATR-42 turboprop aircraft featuring the latest navigational technology and passenger cabins with two-by-two seating, with no middle seats.
Aeromar officials say they will keep close watch on passenger acceptance of the new flights and are prepared to add more flights if demand warrants.
With the new flights, passengers traveling between Tucson and many cities in Mexico will no longer be required to connect at out of the way airports. Sonora's capital city, Hermosillo, will be about an hour's flight away. The same flight will continue on to Los Mochis, gateway to the Copper Canyon, then to the beaches of Mazatlán and end at Guadalajara.
Additionally, through Aeromar codeshare agreements with Aeromexico and United Airlines, passengers will be able to make seamless connections on to other destinations in both Mexico and the U.S. Aeromar passengers can also earn miles in either Aeromexico's Club Premier or United's MileagePlus frequent flyer rewards programs.
The planned schedule, effective October 3, 2016:
Flights operate on Sunday, Monday, Thursday, Friday
Aeromar (VW) Flight 109
Depart: Tucson (TUS) 1:20 p.m.*
Arrive: Hermosillo (HMO) 2:25 p.m.*
Los Mochis (LMM) 4:40 p.m.
Mazatlán (MZT) 7:25 p.m.
Guadalajara (GDL) 10:10 p.m.
Aeromar (VW) Flight 108
Depart: Guadalajara (GDL) 8:00 a.m.
Mazatlán (MZT) 8:45 a.m.
Los Mochis (LMM) 10:30 a.m.
Hermosillo (HMO) 11:25 a.m.*
Arrive: Tucson (TUS) 12:30 p.m.*
* Effective October 30, flight arrival and departure times at Tucson and Hermosillo are one hour later.
Aeromar, officially Transportes Aeromar, S.A. de C.V., is a privately owned airlines founded in 1987 and has operated since then without interruption, making it the country's oldest continually operating airline. Its headquarters as well as operations and maintenance base are at Mexico City's International Airport.
With the addition of Tucson, Aeromar will operate more than 100 daily flights to 41 destinations. The airline announced earlier this year it was looking at adding strategically targeted destinations in the U.S. It began international service into the U.S. in 2013 and currently serves McAllen, Texas.
Aeromar also boasts an on-time performance level exceeding 93 percent.
Tickets can be purchased on their website at aeromexico.com.