Be Prepared This Holiday Season for What's New at TUS
December 14, 2017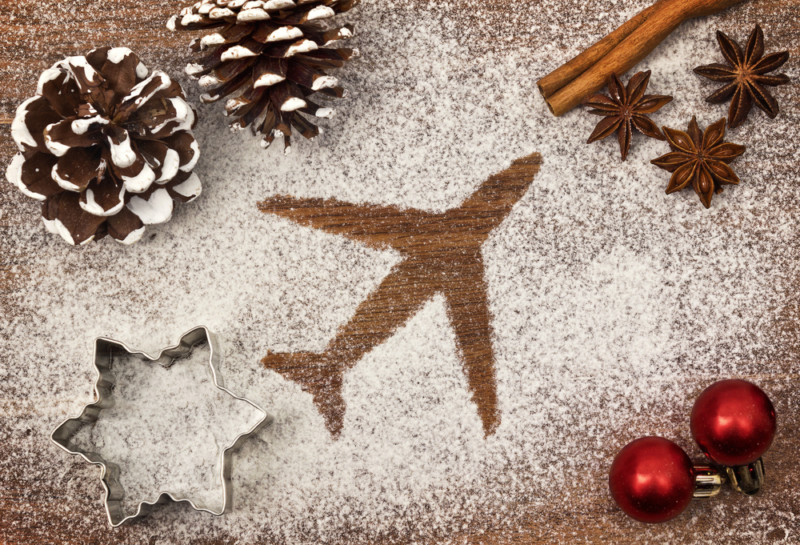 If you're among the more than 13,000 passengers we expect to travel through Tucson International Airport on a typical day during the end-of-the-year holidays we have a few travel tips that might help smooth your travels.
First, on the day you're traveling, take a deep breath before you leave and know that you will be traveling through an airport that prides itself on a reputation for being as stress-free as possible.
Still, construction in the terminal means some things may have changed since the last time you traveled and, of course, it's always good to double check the latest regarding the TSA (Transportation Security Administration) screening.
Unlike the Thanksgiving weekend when passenger traffic spiked by as much as 25% on the Sunday following the holiday, during December and early January passenger traffic is more spread out. The busiest days are expected to be December 21, 22, 23 and 26-29 and January 2.
The 13,000 passengers a day we expect is 10-12% above average.
Getting To the Airport
Check Flight Status.Before you leave for the airport check the status of your flight at flyTucson.com or your airline's website.
Be early.The usual recommendation is to be at the airport at least 90 minutes ahead of scheduled flight departure. That's the minimum this time of year. That may seem silly for TUS but it gives you some leeway in case something doesn't go as planned. On most days, the airport is busiest for departures before 9 a.m. and from noon to 2:30 p.m. Most airlines stop checking bags 45 minutes before departure. Also passengers traveling internationally should know airlines restrict the amount of baggage at this time of year on flights into Mexico and the Caribbean.
The Tucson Airport Authority has more than 7,500 parking spaces but at this time of year spaces can get scarce in some lots. You can check availability under 'Parking' on the www.flyTucson.com website. Complimentary shuttles run 24/7 to/from the Economy Parking lots.
Solar Covered Parking.Solar canopies have been installed over the entire Daily and Hourly lots in front of the terminal. Aside from the benefits of generating power for the terminal and providing shade over spaces, this means that construction detours are no longer in effect.
Besides driving.If you don't want to drive to the airport, other options include taxis, Lyft and Uber or a shuttle. Information can be found on flyTucson.com website under 'Parking & Transportation tab.
Going Through Security
They've moved!At TUS, the TSA security checkpoints have moved in recent months. Passengers departing on Southwest, Sun Country and United airlines enter the A gates from the east end of the terminal (next to the United check-in counter) and passengers departing on Alaska, American and Delta airlines enter the B gates from the west end of the terminal (next to the American check-in counter).
Carry-on Electronics.As of October, the TSA requires all carry-on electronics larger than a cell phone be removed from their cases and placed separately in bins for screening. (This does not apply to passengers using TSAPre✓® when those lanes are open.)
Wrapped Gifts. Unless you are absolutely certain they won't require further screening inspection, it is best not to wrap gifts before traveling. Technically, the TSA says wrapped gifts are permitted but they may need to be unwrapped if further screening is required.
What Can I Bring? If you have any questions about whether an item can go through security, the TSA has answers at https://www.tsa.gov/travel/security-screening/whatcanibring
What's New at the Airport
Security Checkpoints. As already noted, they've moved. They're now at the far east and west ends of the ticketing level. Enter the A gates for Southwest, Sun Country and United airlines at the east end. Enter B gates for Alaska, American and Delta airlines at the west end.
Food and Drink.New concessions are being added but they're not finished yet. Sir Veza's Kitchen & Kantina and Beyond Bread are open for passengers departing from the A gates. Temporary facilities including a coffee bar, Mixta Kitchen and units selling prepackaged grab-and-go items are available for passengers departing from the B gates.
Water Filling Stations.Passengers can now refill their empty water bottles at refilling stations that have been installed on each concourse. They are located near the restrooms and allow easy access for passengers to fill water bottles after they have gone through security.
Meeting Arriving Visitors
Enjoy Noble Hops. If you're coming to the airport to meet arriving passengers, you might think about coming early and enjoying the fare and drink at the new Noble Hops on the ticketing level, 2nd floor. Get your parking ticket validated for up to 2 hours of free parking in the Hourly lot with a minimum $15 purchase.
Arrivals Lounges. Meet arriving passengers at lounges in Baggage Claim on the lower level.  One lounge is located at the foot of escalators coming down from the A concourse for passengers arriving on Southwest, Sun Country and United airlines. Another lounge is located at the foot of escalators coming down from the B concourse for passengers arriving on Alaska, American and Delta airlines.
Have some coffee or tea at Arbuckle's.If you're in the Baggage Claim area, you'll find Arbuckle's Coffee. Enjoy some fresh brewed coffee or a specialty drink while you wait for loved ones.
Cell Phone Waiting Parking. Security regulations prohibit parking at the curb outside Baggage Claim, so a Cell Phone Waiting Lot is available to the right off Airport Drive as you approach the terminal. Parking here is free as long as the driver remains with the vehicle. Please have the arriving passenger claim their baggage before calling you for a ride as stopping can only be permitted for the active loading of a vehicle.