Tucson Airport Authority Police Department's K9 Teams Earn Recertification
August 26, 2022
The Tucson Airport Authority (TAA) continues to prioritize safety, security, and customer service for everyone who works at, travels through, and visits Tucson International Airport (TUS). The latest example is the successful recertification of the Tucson Airport Authority Police Department's (TAAPD) entire K9 unit through the Transportation Security Administration (TSA) National Explosives Detection Canine Program.
The unit consists of Corporal Nicholas Thompson and K9 Blek, Officer Daniel Mesa and K9 Ficko, and Officer Gordon Beyer and K9 Yewa. Together, the three law enforcement officers have more than 24 years of experience as K9 handlers. TAA President and CEO Danette Bewley praised the work of the three officers and their canine partners.
"This is a huge accomplishment for the team," said Bewley. "You do not have to be a 'dog person' to appreciate how these duos, along with the entirety of TAAPD, work around-the-clock to ensure a safe and secure experience at TUS. I have also witnessed our K9 teams put smiles on the faces of travelers throughout our terminal."
The recertification process is an annual test that covers every aspect of both the handler's and the canine's skillsets. It takes K9 teams through various scenarios on and off site, which highlights TAAPD's commitment to public safety beyond the TUS campus, according to TAAPD Chief Scott Bader.
"While our officers spend most of their workdays in and around the terminal, everyone in this department is a member of the Southern Arizona community and there is no 'clocking out' when shifts are over," said Bader. "We are all sworn to serve and protect, period."
Before these teams are formed, each canine endures a months-long training administered by the TSA. Then, bonds are built as handler and canine are paired up for additional training. All members of the TAAPD K9 unit are active participants in the Pima Regional Bomb Squad. To keep up with the activities of Blek, Ficko, and Yewa, please follow TAAPD's social media accounts on Facebook and Twitter.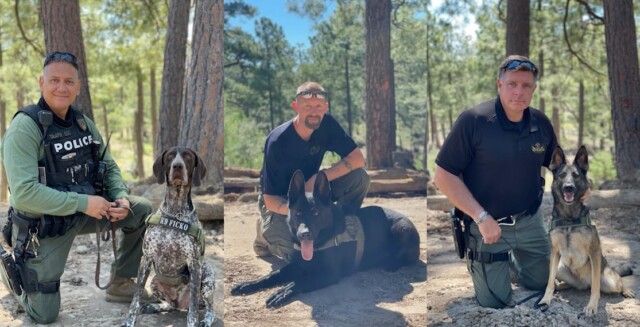 Pictured above: Officer Daniel Mesa & K9 Ficko, Corporal Nicholas Thompson & K9 Blek, and Officer Gordon Beyer & K9 Yewa