Tucson Airport Authority joins Blue Lightning Initiative to Combat Human Trafficking
February 8, 2022
The Tucson Airport Authority (TAA) signed a memorandum of understanding with the U.S. Department of Homeland Security (DHS) and the U.S. Department of Transportation to become an official partner of the Blue Lightning Initiative (BLI) – an element of the DHS Blue Campaign designed to provide anti-human trafficking educational resources to the aviation industry. As a partner of the BLI, TAA will work towards the prevention of human trafficking and protection of exploited persons at the Tucson International Airport (TUS) by providing education, resources, and real-time reporting mechanisms to both staff and the Southern Arizona community.
"We have a long history of working locally with our TAA Police Department, DHS partners, Tucson Police Department and regional law enforcement agencies to combat human trafficking, and we are proud to expand our efforts on a national level through the Blue Lightning Initiative," said Danette Bewley, A.A.E., TAA President and CEO. "Top priorities for the TAA are to provide the best in safety, security and customer service for each person flying through TUS, and human trafficking is an important initiative that we have to combat in the process."
The BLI's extensive training covers the common indicators of trafficking that airport employees may encounter and how to immediately report suspected trafficking to law enforcement. Tucson Airport Authority staff and airport employees, including those working for concessionaries, airlines, terminal agents and tenants using the airfield, will participate in the training annually as it will become a requirement to receive an airport badge. Additionally, all TAA and airport employees will receive a lanyard card with human trafficking information, and educational signage and posters about how to identify and report human trafficking are being placed in staff operations offices and public restrooms. Digital signage with BLI collateral will also be displayed throughout the terminal.
"Partnerships like this one are a force multiplier in the fight against human trafficking," said Cardell Morant, Director of the U.S. Department of Homeland Security (DHS) Center for Countering Human Trafficking. "Combating human trafficking is a top priority for DHS and we work with partners at every level to investigate and help prosecute perpetrators, identify and protect victims and to educate the public and prevent it from happening in our communities."
"Human trafficking remains a top priority of HSI, particularly for border states," said Scott Brown, special agent in charge (SAC), HSI Phoenix. "We are most successful in combatting human trafficking when we partner not just with other law enforcement agencies but with business and transportation hubs where trafficking can go unnoticed. We also place a significant amount of value in the role community members play in identifying victims by learning to recognize the signs of human trafficking and reporting suspected incidences. Partnerships to educate and raise awareness are critical in our continued effort to stamp out trafficking."
"The DHS Blue Campaign is proud to announce TUS as the first Arizona airport to join BLI. TAA's anti-human trafficking prevention and protection efforts will be strengthened by their participation in BLI," said Brandi Bynum, Program Manager for the DHS Blue Campaign.
"The U.S. Department of Transportation is proud to work with our partners across government and the aviation sector on critical counter-trafficking efforts," said Julie Abraham, Director, Office of International Transportation and Trade at the U.S. Department of Transportation.  "When frontline aviation personnel are trained to recognize and report suspected instances of human trafficking, actionable tips are reported to law enforcement to help stop the crime.  This BLI partnership highlights the commitment of the airport industry in joining airlines and industry associations across the country to take a stand against human trafficking."
"Human trafficking is a devastating crime that requires a multidisciplinary approach," said TAA Chief of Police Scott Bader. "I'm very proud we are joining this official effort at TUS, as well as our region and the rest of the nation, to expand and improve our ability to prevent and respond to trafficking. Together, we can end trafficking."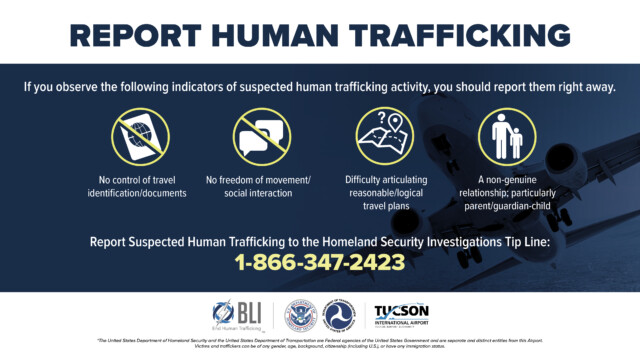 See… Call… Save.
Call 1-866-347-2423 to report suspicious criminal activity to the Homeland Security Investigations (HSI) Tip Line 24 hours a day, 7 days a week, every day of the year. The Tip Line is accessible outside the United States by calling 802-872-6199.
To get help from the National Human Trafficking Hotline (NHTH), call 1-888-373-7888 or text HELP or INFO to BeFree (233733). The NHTH can help connect victims with service providers in the area and provides training, technical assistance, and other resources. The NHTH is a national, toll-free hotline available to answer calls from anywhere in the country, 24 hours a day, 7 days a week, every day of the year. The NHTH is not a law enforcement or immigration authority and is operated by a nongovernmental organization funded by the Federal government.
All restrooms at TUS have the below image installed on each bathroom stall.