Tucson Airport Authority Breaks Down First Wall For 'A Brighter TUS'
June 6, 2016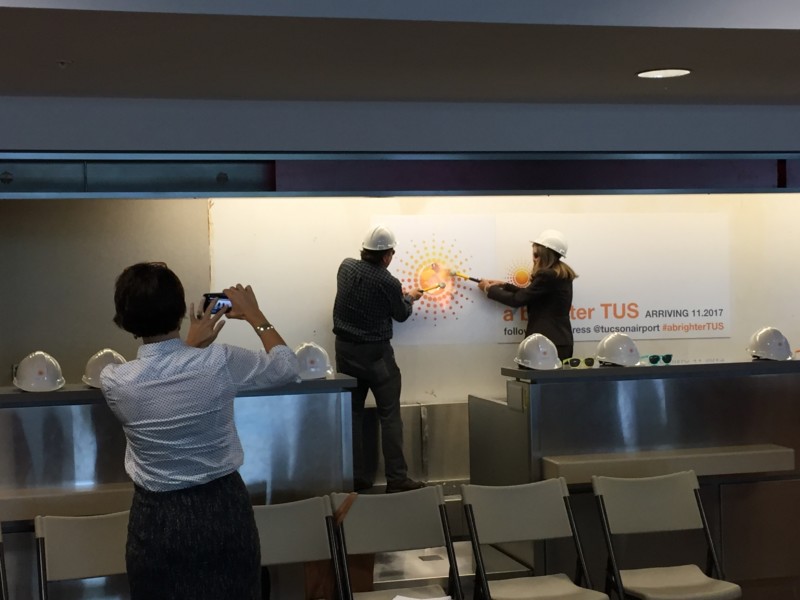 Construction for 'A Brighter TUS' has officially commenced as Tucson Airport Authority President and CEO Bonnie Allin took a sledgehammer to one of the walls being torn down inside Tucson International Airport (TUS). The $28.3 million dollar improvement project was approved by the TAA Board of Directors in April with a construction agreement enacted with Sundt Construction.
"This is a very exciting time for Tucson International Airport," Allin said. "This is something that we've been looking forward to. The security and customer amenity enhancements 'A Brighter TUS' brings to the airport will greatly improve our customer experience. We're thrilled to officially get going on this."
The groundbreaking event was attended by TAA, Sundt Construction and DWL Architects + Planners Inc. personnel as well as airport tenants and employees. This 18-month project includes relocation and expanded capacity at the security screening check points, enhanced concession and revenue opportunities, the upgrade of critical building systems, and maximizing use of under-utilized space.
Key elements of the project being called "A Brighter TUS" will take underused space in the ticketing lobby and repurpose it for the expanded security checkpoints. This space will take advantage of windows and will open up the space to more natural light and views of the airfield. Meanwhile, the space on the concourses currently being used for checkpoints will be redesigned for retail shops, food and beverage outlets and other services, such as business centers and children's play areas.
Originally, construction was to start with American Airlines and United Airlines moving their ticket counters. The American Airlines move has been postponed until the end of June, with United planning to move later in the summer. This postponement will not affect the start of 'A Brighter TUS.'
In the first phase of the project, work will be done in the central terminal area. From June 2016 to October 2017, new concessionaire locations will be prepared. Phase 2 will overlap and run from June 2016 to February 2017. During this time, construction will focus on the relocation of the security checkpoints. Concourse B checkpoints will be the first to move, relocating to the far west end of the terminal while being expanded from three lanes to four.
For more information regarding the project and the additional project phases, you may view our original press release announcing the project and how it will be funded on our website at flytucson.com.
As construction progresses, we will have updates and more information posted to the Tucson International Airport's website (flytucson.com) and social media.