New Technology at TUS Gives 'Sight' to Blind and Low Vision Travelers
December 21, 2018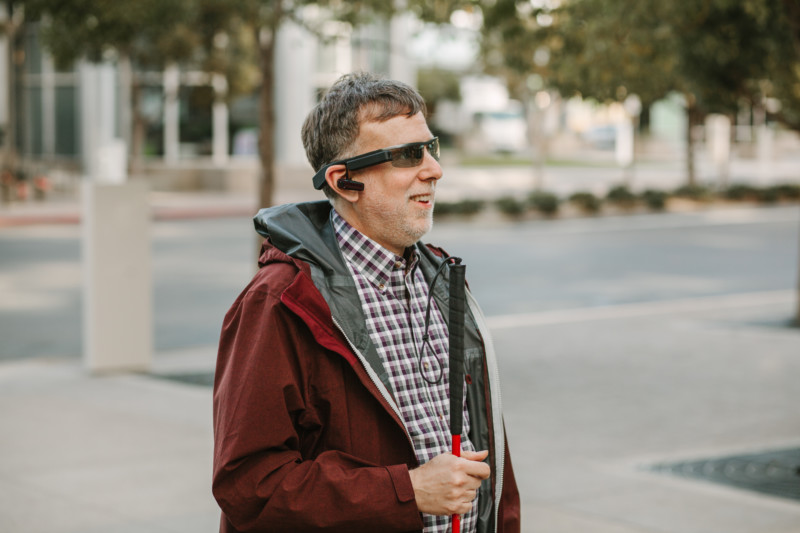 Just in time for holiday travelers, Tucson International Airport (TUS) has launched free access to Aira, an innovative service that gives blind and low vision users instant access to the eyes of a trained professional who can help passengers navigate their way through the terminal.
TUS is the first airport in Arizona to introduce the service that provides access to an agent anywhere there's a cell signal. At the push of a button, departing and arriving passengers using the service while at TUS have free access, courtesy of the Tucson Airport Authority through a partnership between Aira and the America Association of Airport Executives (AAAE).
Using smart glasses or the video stream from a smartphone camera, GPS, artificial intelligence and augmented reality, blind and low vision travelers are connected to live, sighted agents who can provide visual descriptions on demand to help travelers check-in – even using self-service kiosks – navigate through TSA security, locate gates, find airport shops and restaurants, identify luggage and stay updated on flight status all without requiring the assistance of airline or airport personnel.
While traveling earlier this year, TAA President and CEO Bonnie Allin witnessed first-hand just how effective the system works when she was behind an Aira user and struck up a conversation with him while going through a security checkpoint at another airport.
"It was just so incredible to have this gentleman show me how Aira worked and talk about easily he could navigate the airport while traveling alone," Allin said. "This is one of the most beneficial uses for technology I've seen. We're proud to be able to offer this service to our customers at Tucson International Airport."
TUS is one of four U.S. airports to introduce the service in recent weeks. The others are San Diego International Airport, John Glenn International Airport in Columbus, Ohio; and General Mitchell International Airport in Milwaukee.
How does Aira work? It's simple.
Download the free "Aira" app for free and sign up or call 1-800-835-1934
Connect with a certified Aira agent
Receive real-time assistance
Or call 1-800-835-1934 for more information.
Aira, which stands for Artificial Intelligence Remote Assistance (and is pronounced eye-rah), is a leader in remote visual assistance and offers its users an opportunity to purchase the first smart glasses designed for this type of assistance. These glasses, however, are not required to successfully use Aira. As long as a smartphone with camera capabilities is used, the remote agent can assist the user.