Arizonans Should Consider Getting Travel ID Before 2020
April 18, 2018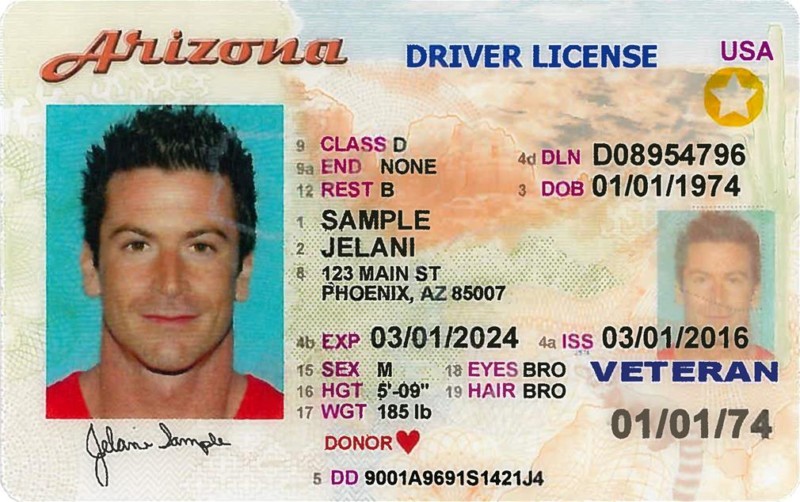 Arizonans who use their driver's license or ID card to go through TSA security at U.S. airports and other restricted, federally-controlled facilities should take action to get an Arizona Voluntary Travel ID through the Arizona Department of Transportation Motor Vehicle Division (MVD) before October 1, 2020, when the standard license or ID will no longer be accepted.
The Transportation Security Administration is providing special notices at Arizona airports, including Tucson International Airport (TUS), reminding travelers of the change. As of October 1, 2020, a standard Arizona-issued Driver License will no longer be acceptable at TSA checkpoints because it does not comply with the federal REAL ID Act of 2005. The Travel ID can be distinguished from a standard ID by a gold star in the upper right corner of the front of the card.
"Now is a great time to get a Voluntary Travel ID, because the federal deadline gets closer every day," said MVD Director Eric Jorgensen. "MVD is making this process simple. Customers can go to ServiceArizona.com and make an office appointment. The website provides information about what documents that customers should bring with them to meet the REAL ID requirements for the Voluntary Travel ID. Appointments also help MVD offices run more efficiently, helping to get customers out of line and safely on the road."
The Travel ID is an optional Driver License or ID that requires applicants to provide identification that meets the federal requirements of the REAL ID Act. The cost for the Travel ID is $25 and in most cases it will be valid for up to eight years. Drivers whose photos need to be updated in the near future may wish to get the Voluntary Travel ID.
The Voluntary Travel ID requires applicants to show four documents:
One document such as a birth certificate or a passport that proves identity
One document that proves a Social Security number such as a Social Security card or W-2 form
Two documents such as utility bills or bank statements that prove Arizona residency
For a list of examples of identification documents and for additional information, visit the Voluntary Travel ID section of ADOT's website at azdot.gov/TravelID.