Deadline to Get Required REAL ID is May 3, 2023
May 3, 2022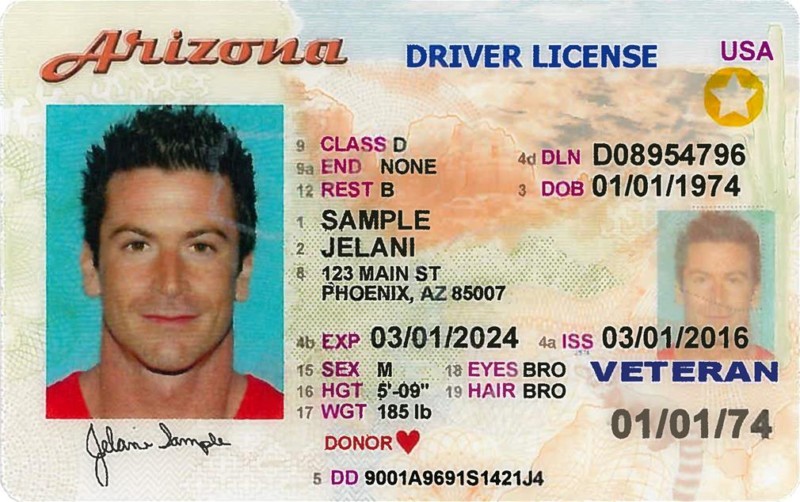 The requirement to use an identification compliant with the REAL ID act to go through TSA security checkpoints at airports takes effect May 3, 2023. The deadline to comply was extended by the Department of Homeland Security at the start of the COVID-19 pandemic.
For Arizonans who use their driver's license or ID card to go through TSA security at U.S. airports and other restricted, federally-controlled facilities, this means you should consider getting an Arizona Voluntary Travel ID through the Arizona Department of Transportation (ADOT) Motor Vehicle Division. The voluntary travel ID can be combined and used as a driver's license, but the standard Arizona Driver License does not comply with REAL ID requirements so it will not be accepted by TSA as of May 3, 2023 when enforcement begins. The Travel ID is distinguished from a standard ID by a gold star in the upper right corner on the front of the card.
The Travel ID requires applicants to provide identification that meets the federal requirements of the REAL ID Act. The cost for the Travel ID is $25 and in most cases it will be valid for up to eight years.
ADOT has more information on the Voluntary ID here:
Other Compliant IDs
Besides the Arizona Travel ID, other forms of ID that comply with the REAL ID Act and can be used to board an airline as of May 3, 2023, are:
A REAL ID compliant driver's license or identification card issued by another U.S. state or territory. (In most cases, compliant state-issued IDs can be recognized by a star on the front.)
U.S. passport
U.S. passport card
A trusted traveler card (Global Entry, NEXUS, SENTRI, FAST) issued by the U.S. Department of Homeland Security
U.S. Department of Defense ID, including IDs issued to dependents
Permanent resident card
Border crossing card
A photo ID issued by a federally recognized tribe, including the Pascua Yaqui Tribe and the Tohono O'odham Nation
HSPD-12 PIV card (issued to federal employees and contractors)
Foreign government-issued passport
Canadian provincial driver's licence or status card issued by Indian and Northern Affairs Canada
Transportation worker identification credential
U.S. Citizenship and Immigration Services Employment Authorization Card (I-766)
U.S. Merchant Mariner Credential
Weapons permits and temporary driver's licenses are not acceptable forms of identification for travel.