American Airlines + Tucson Celebrate 90 Years Together
November 27, 2017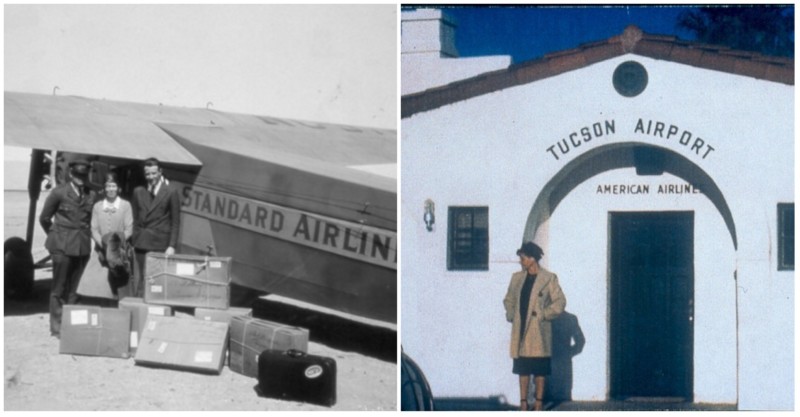 On time, at precisely 5 p.m. November 28, 1927, a six-passenger Fokker Universal arrived at Tucson Municipal Airport. Commercial airline service had arrived in Tucson.
Standard Airlines was the name painted on the side of the plane. A little more than two years later that name became American, and it's a relationship that has continued without interruption for 90 years.
The anniversary of that partnership will be commemorated Tuesday, November 28, 2017, by Tucson International Airport (TUS) and American Airlines.
At first, the flight would fly back and forth along a route between Tucson and Los Angeles with a stop in Phoenix, coming westbound on Mondays, Wednesdays and Fridays and returning on Tuesdays, Thursdays and Saturdays.
The fare for a flight from Tucson to Los Angeles was $60. That was in in 1927. In today's dollars that fare would be more than $850. Needless to say there weren't many takers of those early flights. That is until April 1928 when the airline decided to match the train fare.  Airline passenger traffic grew by 300%!
In February 1929, the route through Tucson was extended eastward to Douglas and El Paso and became daily occurrences. By then a round-trip ticket to Los Angeles (or El Paso) was $52.65. After that it was onward and upward:
1929: New "luxury" 14-passenger Fokker Trimotor aircraft are introduced .
1930: American Airlines extends the route eastward from El Paso, to Fort Worth, Dallas and all the way to Atlanta (which takes two days to reach).
1932: American adds a second daily flight in each direction – that's four departures a day.
1934: After losing the airmail contract between Dallas and Atlanta, American shifts its focus to flying New York, Philadelphia and Washington.
1936: The DC-3, "America's Largest Land Plane" and the first designed to make a profit solely on passengers and not airmail subsidies, comes to Tucson on American's transcontinental route. The seats on the 14-passenger can be converted into sleepers.
1940: American Airlines is up to six departures a day from Tucson.
1943: American Airlines adds nonstop flights to San Diego.
1946: The DC-4 Flagship, a four-engine, 44-passenger aircraft is introduced. Because it can fly farther between fuel stops, it is now possible fly nonstop from Tucson to Dallas and Los Angeles.
1948: The Tucson Airport Authority is formed and American Airlines moves to the new Tucson Municipal Airport and its terminal off Nogales Highway.
1949: American Airlines brings the 68-passenger DC-6 to Tucson. It is the first airliner with pressurized cabins for passengers.
1950: American gets its first competition in Tucson with the arrival of Frontier Airlines flying north Phoenix and south to Nogales and Bisbee-Douglas.
1956: TWA arrives as Tucson's third airline.
1959: Tucson Municipal becomes the 21st airport in the U.S. to have regular jet airline service when American Airlines introduces 137-seat Boeing 707 "Astrojets" to Chicago and Los Angeles.
1961: Two more airlines come to Tucson with the arrivals of Continental and the first international flights on Aeronaves de México.
1963: Tucson's new "jet age" terminal opens at the south end of Tucson Boulevard and the airport officially becomes Tucson International Airport. The airport is served by six airlines with 32 daily departures to 11 nonstop destinations.
1971: American Airlines introduces the 204-passenger DC-10 Luxury Liner, the largest airliner in regularly scheduled service at Tucson.
1984: America West Airlines, based in Tempe, begins service to Tucson.
1991: American Airlines opens 83,000 square-foot reservations center near Tucson International Airport.
2005: America West becomes US Airways as part of a merger.
2012: American's reservations employees become home-based employees.
2015: American and US Airways merge.
2017: American Airlines announces it will begin service to Charlotte in February 2018. With the addition, American will connect Tucson to five of its hubs: Charlotte, Chicago O'Hare, Dallas-Fort Worth, Los Angeles and Phoenix.