Tucson Welcomes Its Newest Airline – Allegiant Now Flying to Two New Cities
November 15, 2018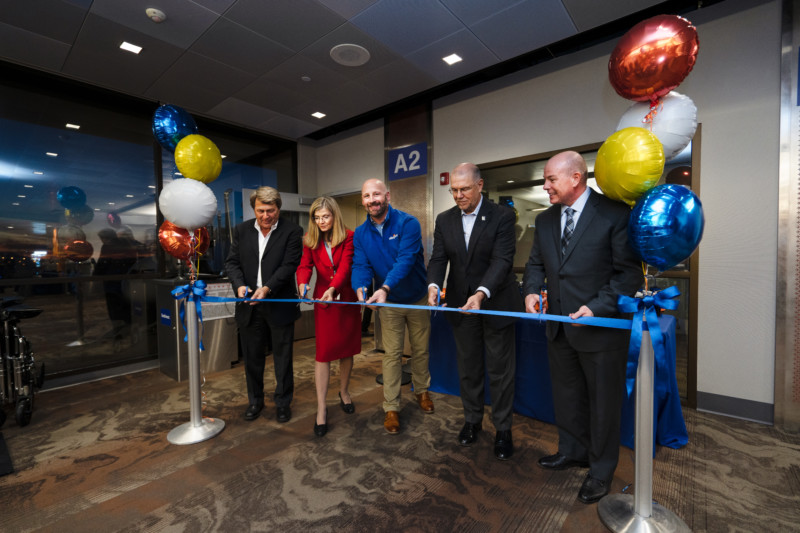 Cutting the ribbon for Allegiant's Tucson arrival, from left, Bill Assenmacher, representing the Tucson Airport Authority Board of Directors; Bonnie Allin, TAA President and CEO; Daniel Meier, Allegiant Manager of Airports; Tucson City Manager Michael Ortega; and Brent De Raad, Visit Tucson President and CEO.
Ultra Low Fares to Bellingham (Vancouver) and Provo
Accompanied by a traditional water salute and welcoming mariachis, Allegiant Air's inaugural flights arrived at Tucson International Airport opening up nonstop flights to two new destinations: Bellingham (Vancouver) and Provo.
Allegiant, which is known for its low fares, is celebrating the inaugural with introductory fare sale for two days on each route with pricing as low as $70 one-way to Bellingham, Washington and
$68 one-way to Provo, Utah. The fares are good on flights through February 28, 2019 but must be purchased no later than November 17 for Bellingham or November 18 for Provo. Search for Allegiant's current low fares to/from Tucson here: Allegiant.com.
Nonstop flights to both destinations are scheduled for two days a week – Thursdays and Sundays to/from Bellingham and Fridays and Mondays to/from Provo.
"We're excited to bring our style of ultra-low-cost travel to our newest Allegiant city, Tucson," said Drew Wells, Allegiant vice president of planning and revenue. "We know our passengers will enjoy this new option to escape the cold just in time for holiday travel."
Bonnie Allin, President and CEO of the Tucson Airport Authority, said "This is a big day for Tucson. For years our air service team has been asked specifically when Allegiant would come here and today our first passengers are taking advantage of their arrival. Not only are they bringing their brand of ultra-low fares, they're bringing us service to two new cities. It's all the more reason for southern Arizonans to support their hometown airport and local economy."
*About the introductory one-way fares:
Seats and dates are limited and fares are not available on all flights. Flights from TUS to BLI must be purchased by Nov. 17, 2018 for travel by Feb. 28, 2019. Flights from TUS to PVU must be purchased by Nov. 18, 2018 for travel by Feb. 28, 2019. Price displayed reflects purchase of a round-trip itinerary and includes taxes, carrier charges & government fees. Fare rules, routes and schedules are subject to change without notice. Optional baggage charges and additional restrictions may apply. For more details, optional services and baggage fees, please visit Allegiant.com.
Allegiant®
Las Vegas-based Allegiant (NASDAQ: ALGT) is focused on linking travelers to world-class leisure destinations. The airline offers industry-low fares on an all-jet fleet while also offering other travel-related products such as hotel rooms and rental cars. All can be purchased only through the company website, Allegiant.com. Beginning with one aircraft and one route in 1999, the company has grown to over 80 aircraft and more than 300 routes across the country with base airfares less than half the cost of the average domestic roundtrip ticket. For downloadable press kit, including photos, visit: http://gofly.us/ToZT30iauev.