Allegiant Puts Tucson on its Route Map
August 21, 2018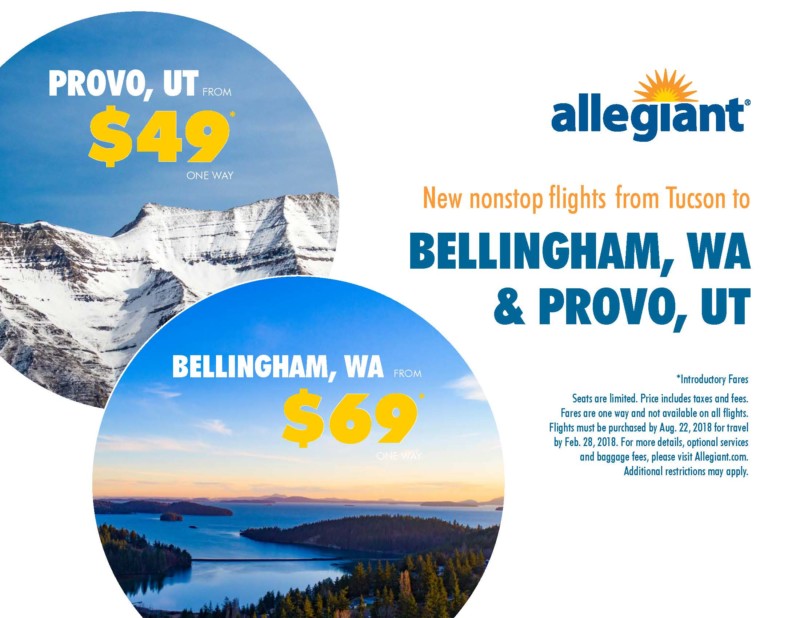 Allegiant today (August 21, 2018) announced it will start serving Tucson International Airport (TUS) in mid-November with nonstop flights to Bellingham, Washington, just across the border from Vancouver, and to Provo, Utah.
To celebrate the new service, Allegiant is offering introductory fares as low as $49 one way to Provo and $69 to Bellingham. Tickets must be purchased by Wednesday, August 22, 2018*.
"We're thrilled to add another sunny Southwestern destination to our network," said Drew Wells, Allegiant vice president of planning and revenue. "We are sure that travelers in Utah and Washington will take advantage of our convenient, friendly service to enjoy all that this beautiful region has to offer."
Flights to both destinations will operate twice weekly on new Airbus jets.
The initial planned schedule (times approximate and subject to change):
Bellingham International Airport (BLI), effective November 15, 2018:
Depart Bellingham (BLI)
3:30 p.m.
Arrive Tucson (TUS)
7:30 p.m.
Thursdays and Sundays
Depart Tucson (TUS)
8:00 p.m.
Arrive Bellingham (BLI)
10:30 p.m.
Provo Municipal Airport (PVU), effective November 16, 2018:
Depart Provo (PVU)
9:00 a.m.
Arrive Tucson (TUS)
10:45 a.m.
Fridays and Mondays
Depart Tucson (TUS)
11:30 a.m.
Arrive Provo (PVU)
1:15 p.m.
Exact schedules and fares can be found online at Allegiant.com.
"When our air service team is out in the community, I cannot tell you how many times they have been asked when Allegiant would serve TUS, and now we have the answer," said Bonnie Allin, President and CEO of the Tucson Airport Authority. "We couldn't be more thrilled to welcome Allegiant and its new destinations, our first-ever service to Provo and Bellingham, which gives us the opportunity to welcome our Canadian friends to sunny southern Arizona on a nonstop flight."
Earlier this month Frontier Airlines announced it would also begin serving Tucson in November with nonstop flights to Denver. Both Allegiant and Frontier are known as ultra low cost carriers offering low basic fares and then offering an array of options at additional cost.
In addition to the basic flight, Allegiant also provides a range of travel options including rental cars and hotels.
Allegiant's arrival means southern Arizonans can fly nonstop from their home airport to 22 destinations on nine airlines – Alaska, Allegiant, American, Delta, Frontier, Southwest, Sun Country, United and Via Air.
*Allegiant introductory one-way fares:
Seats are limited. Price includes taxes and fees. Fares are one way and not available on all flights. Flights must be purchased by Aug. 22, 2018 for travel by Feb. 28, 2018. For more details, optional services and baggage fees, please visit Allegiant.com. Additional restrictions may apply.