Alaska Airlines Launches Nonstop Flights from TUS to San Jose
August 29, 2017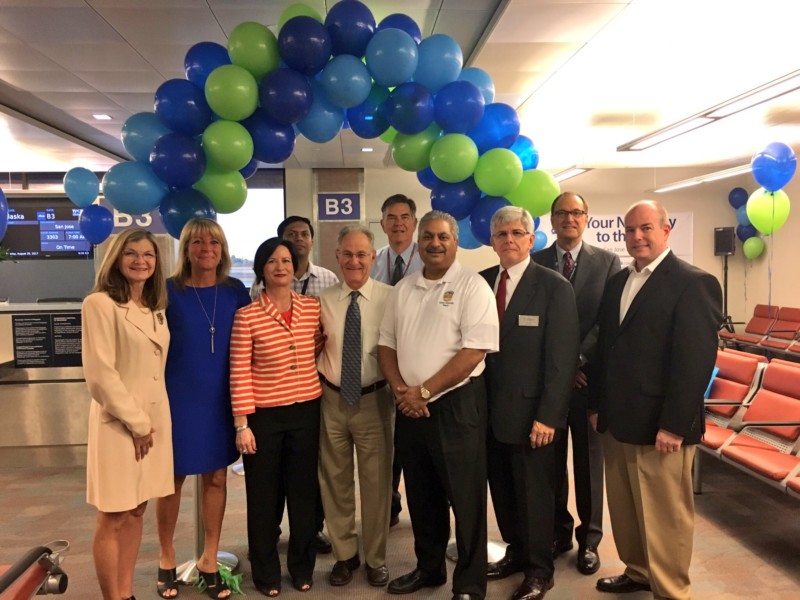 Alaska Airlines today launched daily nonstop flights from Tucson International Airport (TUS) to Mineta San Jose International Airport (SJC), giving southern Arizonans a new alternative when they travel to the San Francisco Bay Area.
The first flight departed Tucson at 7 a.m., following a sendoff celebration that included messages from Tucson Mayor Jonathan Rothschild, Oro Valley Mayor Satish Hiremath, Alaska Air Group Regional Manager Maria Candeloro, Visit Tucson President and CEO Brent DeRaad; Arizona Tech Council Southern Arizona Executive Director Jeff Sales and Tucson Airport Authority Board Secretary Taunya Villicana and President and CEO Bonnie Allin.
Alaska Airlines' new flights connect southern Arizona's burgeoning technology innovation sector with the Silicon Valley epicenter, home to hundreds of companies, including Apple, Google, Facebook, Intel, Adobe Systems, Cisco Systems, Oracle and Yahoo. Intuit's Tucson office is now only a nonstop flight away from the closest airport to its corporate headquarters in Mountain View. And the flight between IBM Storage unit headquarters in Tucson and the IBM Research campus in the Almaden suburb of San Jose is just 2½ hours.
The new flights also bring added benefits for any Tucsonan going to the Bay Area or for visitors who want to come to Tucson.
To help launch the new service, Alaska Airlines is offering special fares as low as $79 each way. Tickets must be purchased by September 4. Buy tickets or find out more at: https://www.alaskaair.com/content/deals/flights.aspx?OLA=BT_TUS_PRT_||20170801_SALE||&o=TUS&ODR=21. Passengers may also call 1-800-ALASKAAIR (1-800-252-7522). For Hearing and Speech Impaired (TTY): Dial 711 for Relay Services.
Alaska's schedule is timed to allow southern Arizona to maximize the use of their time in the Bay Area, with a morning departure from TUS and an evening return:
| | | | |
| --- | --- | --- | --- |
| Depart Tucson (TUS) | 7:00 a.m. | Arrive San Jose (SJC) | 9:27 a.m. |
| Depart San Jose (SJC) | 5:33 p.m. | Arrive Tucson (TUS) | 7:45 p.m. |
*Flights operate daily.
The flights are on new Embraer 175 jets featuring 12 first class seats and 64 coach seats in 2-by-2 seating so there are no middle seats.
Alaska Airlines now serves 18 nonstop destinations from San Jose, more than any other airline at the airport.