COVID-19 Impacts Send Tucson Airport Passenger Numbers Down 55%
January 25, 2021
Less Than 2 Million Travelers for the First Time in 38 Years
Airline passenger traffic at Tucson International Airport (TUS) dropped by more than half in 2020 to less than 1.7 million travelers as the impact of the COVID-19 pandemic took effect. The last time TUS had fewer than 2 million passengers was 38 years ago, in 1982.
Total passengers at TUS for the calendar year fell to 1,698,777, down 55.3% from 3,797,201 in 2019.
The statistics were reported Monday (January 25) during the Tucson Airport Authority's annual meeting, which due to COVID-19 protocols, was a hybrid meeting with most members participating remotely while some participated from socially-distanced venues at the airport.
"After four consecutive years of passenger growth, we were looking forward to 2020 being another robust year. We were on track in January and February to exceed 4 million passengers for the year, then the COVID-19 pandemic hit and the world radically shifted," Danette Bewley, President and CEO told the TAA membership. "In March and April the airport terminal became still and quiet as airlines cancelled flights and grounded aircraft."
All airlines at TUS reported declines. American remained the airport's busiest carrier, followed by Southwest, Delta and United.
The rapid drop is shown in the daily numbers of departing passengers screened by the Transportation Security Administration at the airport. The highest total was 7,303 on February 23 and the lowest bottomed out at just 250 on April 16.
Despite the decline, Bewley told authority members that COVID-19 "has not beaten us, and we will persevere." She acknowledged, however, "Recovery will be a slow process and may take a few years."
Bewley credited the TUS Cares initiative for helping the airport maintain higher percentages of traveling passengers than most other airports and the national average. She said the TAA spent more than $250,000 on equipment and infrastructure improvements to improve cleaning and sanitization of the facility. The effort included up-leveling all cleaning and sanitization protocols, which resulted in TUS being the fifth airport in the world to earn STAR accreditation for cleanliness from the Global Biorisk Advisory Council.
Bewley said the TAA worked with airlines throughout the year to restore and enhance air service. Of 19 nonstop destinations that were served from TUS before the pandemic, all but five had resumed before the end of 2020 and three more are due to be restored in February and March.
The pandemic also prompted Southwest Airlines to look at new opportunities. As a result, in October Southwest added new nonstop flights between TUS and Houston Hobby Airport and in December announced that on March 11 it will start new nonstop flights to Oakland, California.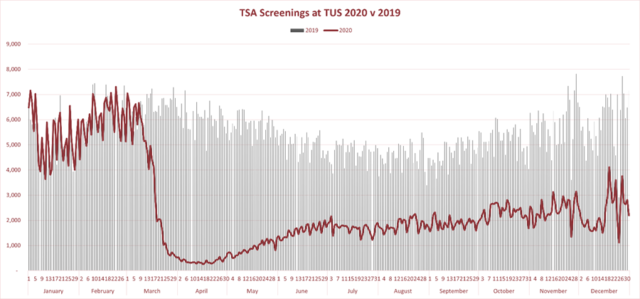 Pre-pandemic Destinations
Atlanta
Bellingham
Chicago O'Hare
Chicago Midway
Dallas/Ft. Worth
Denver
Houston Intercontinental
Indianapolis
Las Vegas
Los Angeles
Minneapolis
Phoenix
Portland
Provo
Salt Lake City
San Diego
San Francisco
San Jose
Seattle
Current Destinations (as of Dec 31, 2020)
Atlanta
Chicago O'Hare
Chicago Midway
Dallas/Ft. Worth
Denver
Houston Hobby
Houston Intercontinental
Las Vegas
Los Angeles
Minneapolis
Phoenix
Portland
Salt Lake City
San Francisco
Seattle
Destinations Scheduled to be Added
Indianapolis (Feb. 11)
Oakland (March 11)
Provo (Feb. 11)
San Diego (March 13)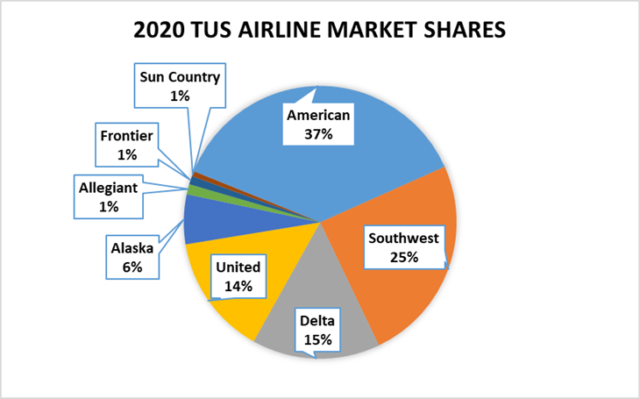 Passenger Declines by Airline at TUS
-54.3%  American
-58.1% Southwest
-53.1%  Delta
-55.2%  United
-58.5%  Alaska
-45.9%  Allegiant
-43.1%  Frontier
-31.9%  Sun Country
###