Community Project Reduces Buffelgrass by 94% on TAA Land​
October 18, 2017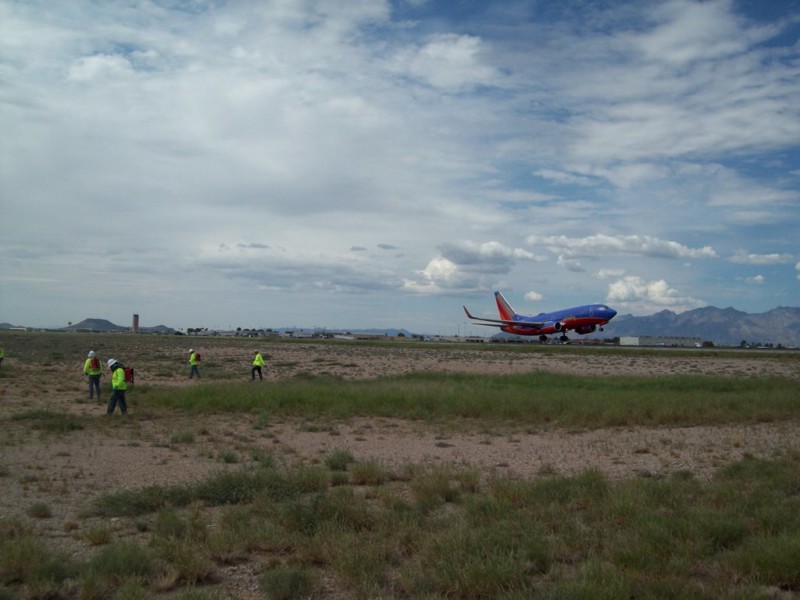 In a cooperative effort to control the spread of Buffelgrass, a highly flammable invasive grass species, a coalition of agencies came together to pursue federal funding through a Federal Emergency Management Agency Pre-Disaster Mitigation grant. Two sites were identified under the grant, Tucson International Airport (TUS) property managed by the Tucson Airport Authority (TAA) and the Mission Road Complex managed by Pima County.  The grant required a 25 percent non-federal fund match provided by each site and the grant covered the remaining 75 percent of costs. The TAA and Pima County committed to help cover the costs.  The project became known as the Wildfire Risk Mitigation Project with an approved budget of $3.4 million.
The Tucson International Airport part of the project was initiated in 2013 with a survey of over 8,000 acres of land owned by the TAA.  This initial survey provided a clear picture of the distribution and abundance of buffelgrass on TAA property.  Buffelgrass mitigation was subsequently performed from 2013 through 2016.  In 2017, a second site-wide survey was performed.  The survey results showed an astounding 94 percent reduction of buffelgrass on TAA property between 2013 and 2017.
The Wildfire Risk Mitigation Project significantly reduced the amount of buffelgrass in the project areas, and also substantially increased community awareness through public outreach and education.  Thanks to the four-year community effort, the Wildfire Risk Mitigation Project was a tremendous success.