Barrio Brewing Co. Lands at Tucson International Airport
May 27, 2021
Travelers ready to fly again will notice a change to the pre-security restaurant available at Tucson International Airport (TUS).
The Tucson Airport Authority celebrates the partnership between two Southern Arizona institutions – TUS and Barrio Brewing Company. Hailed as Arizona's oldest brewery, Barrio's beers can be found all over the state. Now, their food and drinks are available pre-security at TUS. Since opening to customers on February 1, 2021, Barrio Brewing Co. has been popular enough to warrant expanding its hours.
"We are excited to welcome Barrio Brewing Co. to Tucson International Airport. As passengers and those awaiting loved ones as they arrive at TUS, it is great to provide our customers with an opportunity to order food or a drink while pre-security," said Tucson Airport Authority President and CEO Danette Bewley. "It is even better that we have a local favorite that is sure to be appreciated by Tucsonans and visitors alike."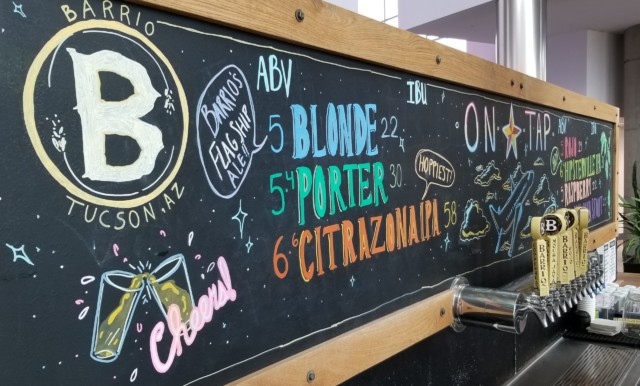 The restaurant's current operating hours are 11:00 a.m. – 3:00 p.m. Sunday through Friday. Unlike the other restaurants in the terminal, customers can access Barrio Brewing Co. without a boarding pass. The restaurant has ample patio seating as well, for anyone wanting to enjoy their food and drinks outside. Barrio Brewing Co. is located on the upper level of TUS next to Arroyo Trading Post.
Delaware North is the operating concessionaire for Barrio Brewing Co.