Ryan Airfield (RYN) is located approximately 14 miles southwest of Tucson at the intersection of Ajo Highway (State Route 86) and West Valencia Road. On more than 1,804 acres, Ryan Airfield serves as a general aviation reliever airport for Tucson International Airport.
More than 300 aircraft are based at the field and 30 tenants ranging from aircraft maintenance shops to charters and flight instruction facilities, provide a variety of services. A self-service fuel pump is located adjacent to the Administration Building.
The airfield has a manned aircraft control tower and became part of the Federal Aviation Administration Contract Tower Program in 1993. The tower recently celebrated 2 million operations with no errors. The tower is staffed from 6 a.m.-8 p.m. daily.
In 2004, the Federal Aviation Administration commissioned a Standard Terminal Automation Replacement System. The system is used to assist air traffic control services, including separation and sequencing of air traffic and traffic alerts.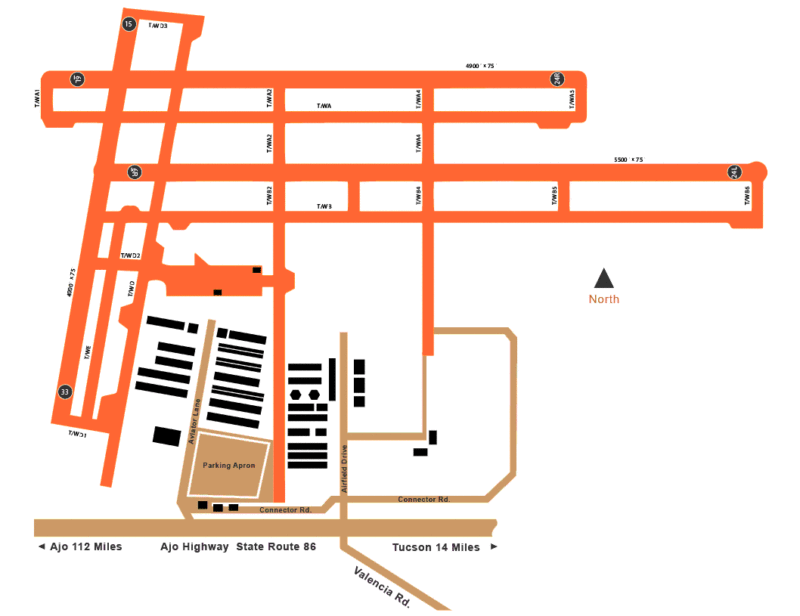 Download Detailed Ryan Runway Map
---
Radio Frequencies
Tower: 125.8
Ground Control: 118.2
Frequencies subject to change and are not for navigational use.
---
Services
See airport information page here*.