FLY'N RYAN:
Created to Fight a War
World War II set the stage for the birth of Ryan Airfield (RYN). With the outbreak of war there was a need for aircraft and trained pilots to fly them. Under U.S. Army supervision, nine civilian flight schools became the new "West Points of the Air." One of these was the San Diego-based Ryan School of Aeronautics.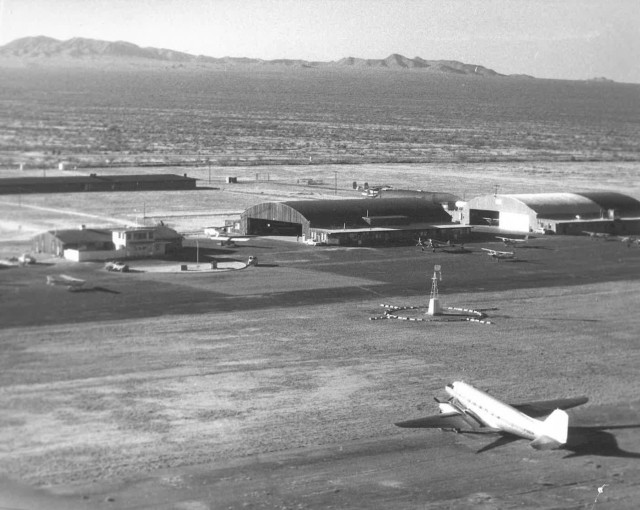 The U.S. feared a coastal invasion following the attack on Pearl Harbor, so the Ryan school sought an inland training sight. Arizona's clear blue skies were perfect.
On June 13, 1942, ground was broken in a field 14 miles west of Tucson and in three months the desert was transformed into an Army base with paved runways, aprons, hangars, barracks, mess hall, classrooms and recreational facilities. The San Diego operation closed and in one weekend planes, personnel and equipment were transferred to Tucson's new Ryan School of Aeronautics.
The PT-22 planes used for training stood up well to heat, wind, and dust storms. They were so rugged they went through the first 7,200 air hours with only one engine failure. Morale was high and contributed to the speedy execution of RYN's purpose. A full course of flight instruction normally required four months, but at RYN it was compressed into just nine weeks.
At war's end, demand for pilots dropped and Tucson's Ryan School closed in September 1944–two years and 6,000 pilots after it first opened. The State of Arizona and a three-year-old Tucson Airport Authority (TAA) executed a 10-year lease for the 906-acre facility in 1951. To make development opportunities more attractive to tenants, a 99-year lease was drafted and signed in 1954. Six years later, the state deeded the land to the City of Tucson which continues to lease the airport's operation to the TAA.
Out from under state-imposed restrictions, the TAA was able to grow and expand the facilities at RYN. More than 40,000 square-feet of new hangars were built, the main runway was extended to 5,500 feet from 1,500 feet, aircraft refueling facilities were installed, an Automatic Weather Observing Station (AWOS) was installed and in 1986 a restaurant, Wings, was opened.
In 1993, the TAA constructed a six-story air traffic control tower, funded through a grant from the Arizona Department of Transportation and in 1997 the tower began operating under the auspices of the Federal Aviation Administration's Contract Tower Program. The RYN tower is one of six Federal Contract Towers in Arizona and the only one in Southern Arizona.
The spirit of aviation continues to this day at RYN as it serves the growing needs of general aviation and military aircraft. RYN ranks No. 20 among the busiest FAA Contract Tower airports serving more than 110,000 aircraft operations annually.