Accessibility services, including TDD telephones and visual paging monitors, are available at key locations inside the terminal to assist travelers with special needs. Personal assistance is available 24/7 by dialing "0" from any courtesy phone. Airport Ambassadors are also on duty during peak travel times and are happy to provide assistance.
Please inform your airline when making reservations about any assistance you may require including wheelchairs, specific seating or food requests.
For blind and low vision travelers, Tucson International Airport also offers free access to the services of Aira, which uses the video stream from a smartphone camera or smart glasses to connect to a live sighted agent who can help guide users through the terminal. (Read more about this service under Blind/Low Vision Assistance below.)
---
Arriving/Departing
Departing passengers may use the curbside in front of each airline in the terminal buildings. All airlines provide curbside wheelchair assistance. For prompt service it's best to make arrangements with the airline at the time you're booking your flight. Please be aware that only American and Southwest airlines offer curbside bag check for all passengers.
Only active loading and unloading of passengers is permitted curbside. Security regulations prevent traffic officers from from allowing vehicles to park at the curbside in front of the terminal buildings. If you wish to park, please use the Hourly parking lot. Another option if you're picking up a passenger is to wait with your vehicle in the free Cell Phone Waiting Lot off Airport Drive immediately west of the terminal area.
---
Blind/Low Vision Assistance 
Access to Aira (Artificial Intelligence Remote Assistance) is available at no charge to users at Tucson International Airport. Using the video stream from a smartphone camera or smart glasses, the service combines GPS, artificial intelligence and augmented reality, to connect blind and low vision travelers to live, sighted agents who can provide visual descriptions on demand to help navigate through the check-in process and  TSA security, locate gates, find airport shops and restaurants, identify luggage and stay updated on flight status.
Download the free Aira app here or for more information call 1-800-835-1934.
---
Elevators
All public elevators in the main terminal contain Braille and lowered control panels to facilitate ease of use. There are five elevators located throughout the public areas of the main terminal, all within close proximity of escalators and/or stairs. All of the facilities at the C gates are on the ground level.
---
Emergency Services
For medical emergencies, trained emergency medical technicians are available 24 hours. Dial 911 from any airport or cellular phone for assistance.
---
Ground Transportation
Most ground transportation services, including parking shuttles, taxis, car services, shared ride vans, hotel and airport parking shuttles, are located along the commercial roadway in front of the terminal. App-based ride services can be met at the curb outside the Rental Car Center, which is out the exit of the terminal beyond Check with specific providers for facilities and requirements for advance reservations.
---
Public Transit 
Sun Tran, the Tucson region's public transit system, is wheelchair accessible. Sun Tran's airport stop is just outside the upper level west exit of the main terminal. More information about Sun Tran is here.
---
Moving Walkways
Moving walkways travel up an incline leading to/from the east exit of the main terminal connecting passengers with the Rental Car Center, the Parking Garage and the pickup location for app-based ride services (Lyft and Uber). Persons with disabilities may find it more convenient to avoid the moving sidewalks. To do so, arriving passengers at Baggage Claim can take an elevator to the second level then travel down the ramp from the terminal to the east exit. Departing passengers entering the terminal from the Rental Car Center or Parking Garage should stay to the left upon entering the terminal and take the ramp down to baggage claim then use an elevator to the second level for airline check-in. (Note that departing passengers, including those using app ride services, can be dropped off curbside in front of each airline's check-in counter.
---
Paging
Visual paging display monitors are placed at clearly designated locations throughout the airport terminal. To place a visual page dial "0" from any courtesy or house phone.
TDD (Telecommunication Devices for the Deaf) telephones accommodating the hearing impaired are available in the Lost and Found Office in baggage claim near carousel 4 and in the airport's communications center. If you anticipate receiving a page or wish to leave a standard audible page, visit Lost and Found (open 9 a.m.-4 p.m. Mondays-Fridays, except holidays) or call (520) 573-8111 for assistance.
---
Parking
Designated reserved accessible parking spaces are available in the Hourly and Economy parking lots and in the Parking Garage. These spaces require official license plates bearing the disabled designation or other official documents issued by a municipality or state of residence to be prominently displayed on the vehicle while it is parked. Please note there are no designated accessible parking spaces in the Daily lot. As an alternative, properly identified vehicles may park in the designated spaces in the Hourly lot and cashiers at the exit will charge the Daily lot rate. The lowest parking rates are in the Economy parking lot at East Corona Road and South Tucson Boulevard which has shuttles that are wheelchair accessible. For additional information or to arrange for a wheelchair accessible shuttle, please call Ace Parking at (520) 573-4710.
---
Rental Cars
Many rental car companies provide special access vehicles. Reservations are required. Rental car counters and vehicles are in the Rental Car Center, just outside the east exit of the terminal.  Car rental information is here.
---
Restrooms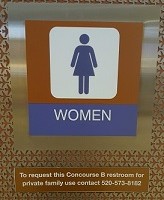 All airport restrooms contain at least one larger stall and grab bars to accommodate individuals with accessibility needs. In addition to wheelchair accessible
restroom facilities, there are three family restrooms pre-security: two adjacent to the Welcome Lounges in Baggage Claim on the lower level and one is on the east side of the Center Point on the ticketing (second) level.
Post-security, the women's and men's restrooms on both concourses are designed so a portion can be closed for private family use to accommodate people with special needs. To request this service, please call (520) 573-8182. Signage at the restrooms also contains these instructions.
---
TSA Security Screening Assistance
Travelers who require special assistance going through the Transportation Security Administration checkpoints can request the service as part of making their airline reservation.
Federal security measures restrict public access beyond the checkpoints to ticketed passengers only. However, airlines may allow persons with special needs to be accompanied by assistants or guardians. These arrangements can be made at the airline check-in counter.
TSA Cares is a hotline service operated by the TSA. Passengers requesting assistance should contact TSA Cares at 1-855-787-2227 at least 72 hours prior to their planned departure. (Federal Relay: 711)  During Daylight Saving Time (March through October), the hotline is staffed from 5 a.m.-8 p.m. (Tucson time) Mondays through Fridays and from 6 a.m.-5 p.m. weekends and holidays. During Standard Time, it is staffed from 6 a.m.-9 p.m. Mondays through Fridays and 7 a.m.-6 p.m. weekends and holidays. Email them at mail TSA Cares.
---
Service Animals Relief Area
Animal relief areas are located outside the east and west sides of the Baggage Claim, lower level. Use the exit doors toward the parking lot nearest baggage carousels 1 and 7. Plastic bags and a container for disposal of solid waste are provided. Beyond the TSA Checkpoints temporary animal relief facilities are provided inside the restrooms on both concourses.
---
Wheelchair Service
Passengers may request wheelchair assistance as part of making their airline reservations. Wheelchairs may also be available from skycaps along curb for departures. Please be aware that only American and Southwest airlines routinely provide curbside bag check for all customers.
---
ADA Coordinator
Please direct all ADA questions, requests for auxiliary aids or service, requests for alternate format or other ADA concerns to the Airport ADA Coordinator at the Tucson Airport Authority or call (520) 573-8100 during regular business hours, 8 a.m.-4:30 p.m. Mondays-Fridays, except holidays.
To review the Tucson Airport Authority's Americans with Disabilities Act (ADA) Complaint Procedures, or file a complaint, please use these links:
More Resources